Desert summer camp gives teens environmental lessons
China Daily, October 14, 2016

Adjust font size: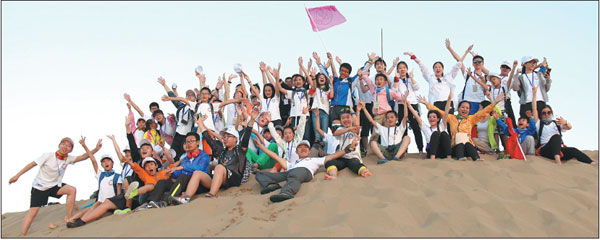 Teenagers from seven countries spend more than two weeks learning about environmental issues at a camp in the Kubuqi Desert in the Inner Mongolia autonomous region during July and August.Provided To China Daily
A group of 76 teenagers from seven countries learned about the environment and eco-friendly lifestyles at a camp in the Inner Mongolia autonomous region this summer.
The annual camp, co-organized by the United Nations Environment Programme and Elion Foundation, aims to prepare tomorrow's generation to make sustainable use of the planet's finite resources, organizers said.
Camp participants from the United States, the United Kingdom, Canada, France, Germany, the Republic of Korea and China spent more than two weeks camping in the Kubuqi Desert in July and August.
This year's event focused on the UN-led, environment-related Sustainable Development Goals, including sustainable consumption and production, clean energy and climate change.
Students learned why a change in consumption habits is essential for achieving the SDGs and how sustainable consumption and production can support efforts to eradicate poverty.
Campers said the experience has changed their attitude toward the environment and they would share what they learned with their peers on social media and websites. They also felt encouraged to start their own groups to involve more young people in environmental awareness promotion activities.
Guo Yintong, 12, said he wants to become an energy expert when he grows up and make it his life mission to ensure that cheaper and eco-friendly energy is easily available to the poor.
"My first thought was that there was nothing in the desert but sand," Guo said, who is from a British school.
Yet during the camp, he was "so impressed by the massive scale of solar panels in the desert".
"Science and high technology can bring us a better life, especially for people living in poor regions," he said.
Liu Xuhao, a participant from Beijing, said: "I treasure the knowledge I have gained and the experience we have had."
The hardest part of the trip was hiking on the sand, walking 5 kilometers with less than a 550-milliliter bottle of water per person, Liu said.
With the sand in the wind hitting their faces and hair, "none of us had this awful feeling before, being thirsty and exhausted", he said.
"We stood by each other, pulling our companions out of the sand or up the dunes and sharing our scarce water. Finally, we made it," he recalled.
Realizing the seriousness of desertification, "we need to take action" to restore the local eco-system, Liu said.
He cited Zhang Xiwang, their tree-planting instructor, as an example to illustrate the efforts of combating desertification.
Teenagers were paired up to plant trees under Zhang's instruction at the camp.
"It was so hard to plant trees in the desert that my partner and I spent about 20 minutes digging a big enough hole in liquid sand," Liu said.
Yet Zhang and his team have expanded green coverage in the desert for more than 25 years, from one tree to 20,000 mu (1,333 hectares) of forests. Zhang's given name, Xiwang, literally means "hope" in Chinese. He himself has brought locals hope of improving the environment. At the same time he has fostered hope among the younger generation by increasing their environmental awareness.
Pointing at the trees and the young campers, Dou Rui, a camp trainer, told Zhang at the end of the planting session: "You said you want to see a glimmer of hope - they are right there."
Guo said: "People want to change the world but do not want to change themselves.""To help the earth, we need to change ourselves," he said. "It is time for each of us to take action right away."
Charley Zhao, a 12-year-old student from Shanghai, said: "I believe that people will be ready to take up their share of responsibility for environmental protection when they are aware of the dangers the earth is exposed to."
"We can start from the small things and develop habits of green living," Zhao said. "Reduce the use of disposable stuff, recycle whatever we can, use less power... these handy things, when added together, can make a big difference."