A Chinese Brand Takes Root in India
China Today by Wang Juan, October 13, 2016

Adjust font size:

The first batch of motors produced by CRRC Yongji Electric Co., Ltd. arrived in India in 2007. In 2016, formal production began at CRRC Pioneer (India) Electric Co., Ltd., the first plant in South Asia established by CRRC Corporation Ltd.

Having progressed from product exports to capital and technology exports, a joint venture has finally taken shape.

Win-Win Cooperation

With a 64,000 km network, India has one of the world's largest railway systems. The Indian railway sector reportedly needs to purchase around 2,000 traction motors and 300 traction generators each year.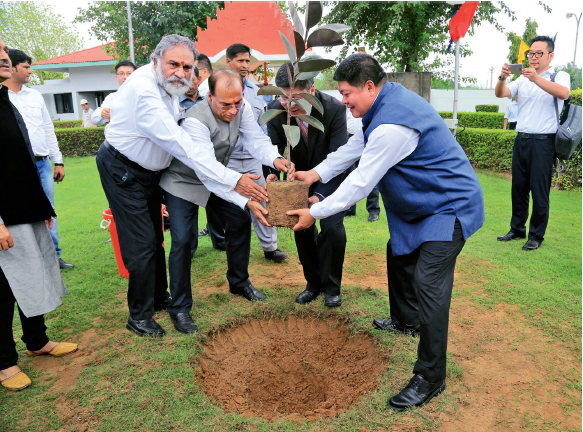 Honored guests from both sides of the joint venture plant a wish tree at the formal founding ceremony of CRRC Pioneer (India) Electric Co., Ltd.
China has a well-developed high-speed railway network and a colossal number of passengers, along with advanced high-speed train technology and proprietary intellectual property rights. CRRC, as a representative of China's high-end equipment manufacturing industry, has long had ambitions to "bring China's high-speed trains to the world."
The latest data show that China CRRC ranks 266th in the Fortune Global 500, and is 179th among the Brand Finance Global 500. CRRC received at the 10th China Brand Festival award ceremony the Huapu Award, Huapu meaning the facial makeup worn by performers of Chinese opera. This reflects CRRC's status as a high-speed railway manufacturer that acts as a figurehead for China's strong manufacturing industry.
CRRC started its cooperation with India in 2007. It has since supplied India with subway trains and shunting locomotives, as well as railway traction motors, bent axles, and rail wheel sets. On August 20, 2016, the CRRC Pioneer (India) Electric Co., Ltd., a joint venture between CRRC Yongji Electric Co., Ltd. and India Pioneer Trade Company, formally went into operation. It is the first railway transportation electrical traction equipment manufacturing enterprise established in India since India's Modi government proposed the "Make in India" national plan. It is also CRRC's first plant in India and South Asia as a whole.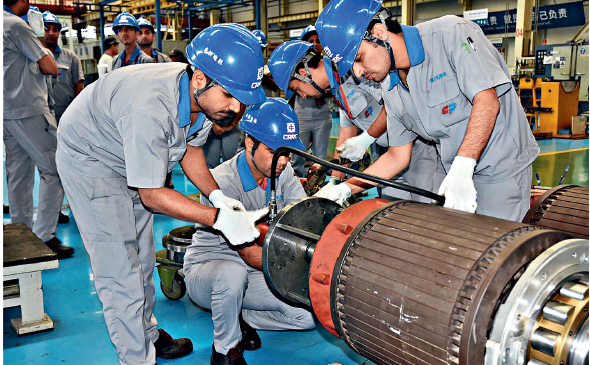 CRRC Pioneer (India) Electric Co., Ltd. employees receive training at CRRC Yongji headquarters.
CRRC's Indian operation is localized to cater to India's needs. Its export mode to India has changed from exports of single products to a mélange of technology, capital, and services, thus boosting international production cooperation and achieving localized manufacturing. The joint venture will also create jobs and increase tax revenues, as well as advance improvement and upgrading of the local rail transit industrial chain.
The ceremonial commencement of the joint venture was attended by CRRC leaders and Indian Ministry of Railways (MOR) officials. A promotion event for CRRC took place that evening in New Delhi. Vice President of CRRC Yu Weiping said, "In view of India's 60,000 km-long railway, establishing one electric motor plant is far from enough. CRRC will take further steps to establish factories that produce core parts like bogies, train carriages, and tractions systems – even entire motors."