Rebirth of a quake-ravaged city
Xinhua, July 29, 2016

Adjust font size: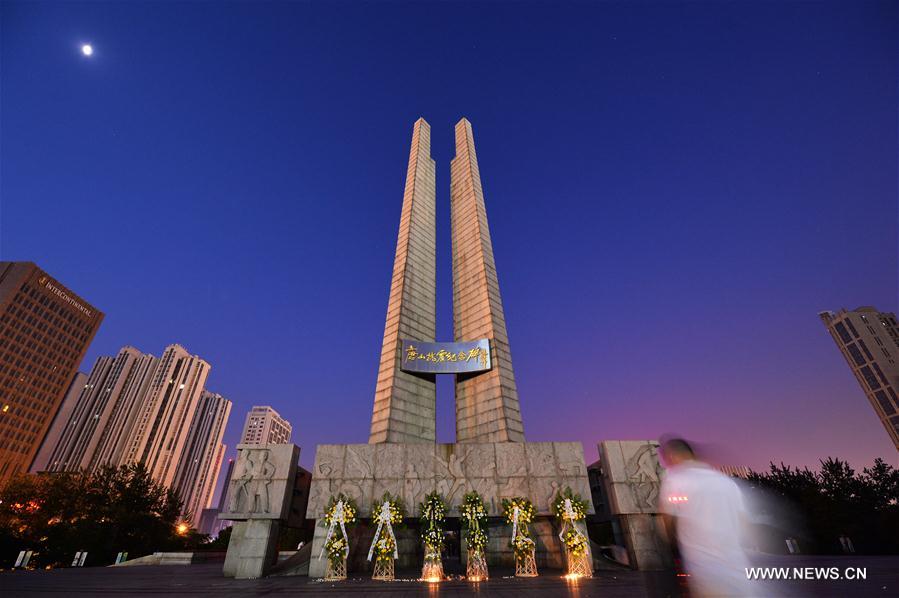 A citizen mourns for relatives killed in the 1976 Tangshan earthquake in front of the Earthquake Monument in Tangshan, north China's Hebei Province, July 28, 2016. In the early hours of July 28, 1976, a 7.8-magnitude earthquake struck the city in Hebei Province, killing over 242,000 people. Local residents came to the Tangshan Earthquake Ruins Memorial Park and the Earthquake Monument to show love to their deceased family members and friends on Thursday. (Xinhua/Zhao Liang) 
Standing on the rubble of Tangshan 40 years ago, orphan Zhang Dongyi saw his world collapse, and so did the city in northern China's Hebei Province.
Forty years later, Zhang, 54, is a senior technician with the Tangshan branch of the China Railway Rolling Stock Corporation (formerly the Tangshan rolling stock plant).
"The past four decades have changed a lot," he said.
"From destruction to prosperity, Tangshan is a miracle."
The year 1976 was tragic for China. Three of its most venerable leaders, Mao Zedong, Zhou Enlai and Zhu De all died in the year. In the early hours of July 28, one of the deadliest earthquakes of the 20th century razed the city of Tangshan, killing more than 240,000 people and injuring another 160,000.
THE QUAKE
Thursday is the 40th anniversary of the disaster.
Zhang remembered being just a regular naughty boy before the quake, but then everything changed.
"Life was carefree until that day," he said.
Before the quake hit, Zhang was watching a movie, which was about the thoughts of Chinese Chairman Mao Zedong. In Zhaogezhuang village, where he lived, people were noticing that things seemed unusual somehow.
"Water in the wells was muddy, and chickens refused to return their sheds," he said.
"Some of them even flew up into trees." But the villagers didn't realize what was in store for them.
At midnight, he was awaken by a violent shake. Outside his window, he saw lightening and trees being uprooted in strong winds. Zhang fell to the ground.
Before he could get up, his house collapsed. It was 3:42 a.m.. When he was rescued at dawn, he found he had injured his nose; you can still see the scar to this day. His sisters were injured and sent to hospital, while his parents died after the roof collapsed on them.
In Zhaogezhuang, 400 out of a 1,000 villagers died in the quake. The Tangshan rolling stock plant where Zhang's father worked, founded in 1881, was destroyed.
In the disaster Liu Jiang lost his father. The then 20 year-old miner was installing equipment in the mineshaft when he felt tremors that made it difficult for him to stand.
"The first thought that came to my head was war," Liu said.
The earthquake cut off the power supply and disabled elevators. They went back up to ground-level only to find all the buildings surrounding the mine had collapsed.
"Corpses and injured people were everywhere, and the water became red," he said.
Survivors joined in the rescue efforts. Without advanced equipment, they dug out more than 16,000 people with their bare hands.
REBUILDING
Despite a severe shortage of resources and only 10 percent of the world average GDP per capita, China was determined to carry out the post-quake rebuilding without the help of other nations.
Only five hours after the quake, Feng Lindi, a steel worker, returned to his workshop.
"Nowadays you might question my motives, but in those days people had faith," said Feng.
"We heard of Western media reports saying Tangshan had vanished from the surface of the earth, and we were determined to show the world we had not."
On August 25, four weeks after the quake, steel bars rolled out from the furnace at Feng's workshop.
"We swarmed to the platform at the foot of the furnace, laughed, cried and shouted 'Long live Chairman Mao'," he said.
"It's a mixed feeling you won't understand."
Slowly but surely, homes, factories and public facilities were rebuilt. The central government allocated 500,000 tonnes of steel, 500,000 cubic meters of lumber, 2.5 million tonnes of cement, and more than four billion yuan to facilitate the post-quake rebuilding.
"At least 120,000 construction workers were hired from neighboring cities in Hebei to help with the civil construction, as many local workers had died in the quake," said Chang Qing, a 82-year-old photographer who has recorded Tangshan's reconstruction for four decades.
Altogether 650,000 homes were destroyed in the quake and not a single building remained standing.
"Tents were set up on the ruins and there was no empty ground in the city for new homes to be built," said Chang.
"Reconstruction had to start in the suburbs, and sprawl to the city center after residents had moved into new settlements in the outer areas."
For eight years, Chang's family lived in a small prefabricated house. In the hardest days, they lived on food relief and rain water from a muddy pond. For many months there were no fresh vegetables, and pickles were their only dish.
"There were 23 people from five families in the neighborhood, mostly women and orphans. I was one of only three healthy men able to do the tough jobs such as carrying fuel or cutting firewood," said Chang. "Together we helped ourselves in order to survive."
Two years after the quake, China started its reform and opening up.
"Reform accelerated China's development and spurred industrial growth in Tangshan, a city famous for its resources and chemical industries," said Professor Gao Minjie from the Tangshan Party School.
Businesses in Tangshan kept expanding in the post-quake era, spurred on by a growing demand for coal, steel and other resources.
The state-owned Kailuan Mining Group began sending its workers on training tours to Japan, Europe and America in the early 1980s.
A Tangshan-based overseas engineering company won its first international contract in 1985.
The first high-rise building, the Tangshan Hotel, was built in 1983, but was soon overtaken by the countless skyscrapers that make Tangshan the modern city it is today.
"Every new building is a monument," said Chang, who still records the city's changes with his camera.
"It's a relief I can do something for the sake of those who died in the quake -- the new city was built on top of them."