Storms, tornado leave 78 dead
China Daily, June 24, 2016

Adjust font size: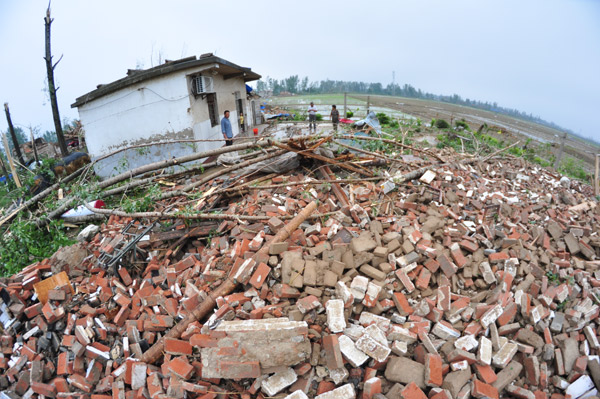 Villagers survey the rubble of a collapsed house after a tornado struck Funing in Jiangsu province on Thursday. Provided to China Daily
Nearly 500 injured as extreme weather conditions hit city in Jiangsu province
Seventy-eight people were killed and nearly 500 injured in disasters caused by extreme weather conditions, including a tornado, in Jiangsu province on Thursday.
Buildings collapsed as thunder, lightning, rainstorms, hailstorms and the tornado struck counties and villages in the city of Yancheng at about 2:30 pm.
By 11 pm, among the 500 injured, about 200 were in critical condition, according to the Ministry of Civil Affairs.
President Xi Jinping and Premier Li Keqiang instructed authorities to make every effort to rescue the injured and do everything possible to minimize casualties.
They also called for proper handling of the aftermath, as well as intensified meteorological monitoring and geological disaster assessment.
A State Council work group headed by Vice-Minister of Civil Affairs Dou Yupei rushed to Yancheng. The ministry has sent relief materials, including more than 1,000 tents and 2,000 folding beds, to the affected areas.
Extreme weather conditions were reported in several townships in Funing and Sheyang counties in the suburbs of Yancheng.
Gales of 125 kilometers per hour battered several outer townships in Funing county, while in Sheyang, the winds reached 100 km per hour.
Some regions reported blackouts and interruptions to communications.