SOEs need support for successful reform
China Daily, April 22, 2016

Adjust font size: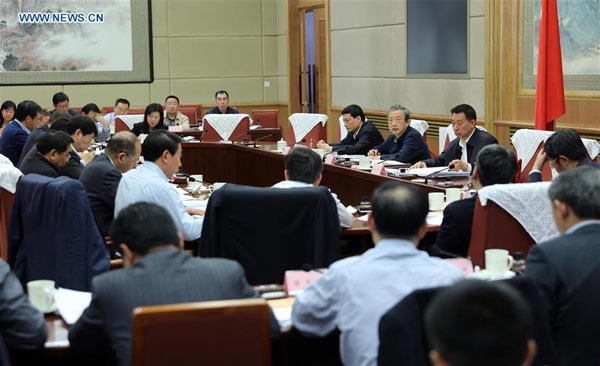 Chinese Vice Premier Ma Kai, who is also head of the Leading Group for State-owned Enterprises Reform under the State Council, presides over the 18th plenary session of the leading group in Beijing, capital of China, April 8, 2016. [Photo/Xinhua]
The ongoing State-owned enterprises' reform has a key role to play in the country's comprehensive economic transition, but it would not be right to overdo it, especially because the SOEs and society are not yet ready.
In other words, owing to the ongoing economic downturn, SOEs in the competitive market should be given time and financial support to recover their losses, if any, instead of being told to contribute more to the country's fiscal revenue.
In fact, it will cost more to press ahead with the SOEs' reform than in the past. Also, the risk of causing further economic turbulence is high if the authorities push for mergers and bankruptcies of enterprises suffering from overcapacity. The top priority at the moment should be to replace the obsolete development model with one that would be sustainable.
Despite the difficulties associated with the ongoing reform, the SOEs still have great potential to make a difference, as the country's service industry is expected to grow by 10 percent or more a year in the coming years. That may allow some SOEs to focus on innovation, not just basic manufacturing, to develop in a service-oriented manner.
For that to happen, the central government also needs to implement the hukou (household registration) reform and put in place a residence permit system as promised. The 2015 Central Urban Work Conference, the first of its kind since 1978, laid out plans to increase the urbanization ratio to 60 percent and speed up the assimilation of migrant workers into the urban population by 2020. Urbanization on such a scale would inevitably need huge amounts of investments from the SOEs.