Senior China official vows more Africa investment
Xinhua, December 2, 2015

Adjust font size: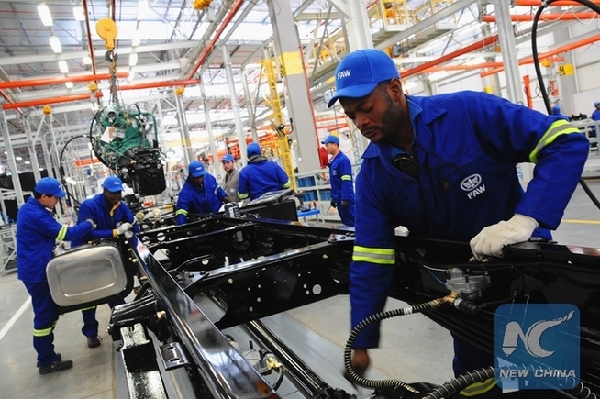 Workers in an assembly production plant of China First Automotive Works (FAW) Group in Nelson Mandela Bay Municipality, South Africa, July 10, 2014. [Xinhua]
A senior Chinese official has promised more investment in Africa.
"China will expand investment to Africa and promote cooperation in the emerging industries of aviation, finance, tourism, the marine economy and green economy," Vice Commerce Minister Qian Keming was quoted as saying by the Economic Daily on Monday.
Qian believes the cooperation will foster a fresh growth point for both sides, he said in a Q&A with the newspaper.
Chinese enterprises had invested over 30 billion U.S. dollars in Africa by 2014, 64 times that of 2000, while the bilateral trade volume reached 222 billion U.S. dollars, 20 times that of 2000, according to official data.
Though both sides have been plagued by sluggish external demand and softening trade in the global financial crisis, China and Africa still have a bright outlook through their deepening economic cooperation, Qian said.
The two sides complement each other, Qian said. China is promoting the Belt and Road Initiative and industrial cooperation, while African countries are in the midst of industrialization and modernization.
The vice commerce minister pointed to the former's enormous capital for investment in overseas markets and development of advanced technologies suitable to less developed regions, and the latter's huge market potential, demographic dividends and hunger for investment.
China and Africa can weather the economic storm together and emerge with bright prospects, Qian said.
He said China will continue to work to improve education, agriculture and healthcare in Africa and support poverty alleviation efforts.
China has provided African countries with loans worth over 20 billion U.S. dollars, rolled out about 900 assistance programs covering agriculture, health, education and other fields and offered training to over 30,000 local people since 2012.
On Friday and Saturday, the China-Africa Cooperation Summit will be held in Africa for the first time.