'New Keqiang index' highlights income level and environment
china.org.cn / chinagate.cn by Li Jingrong, November 25, 2015

Adjust font size: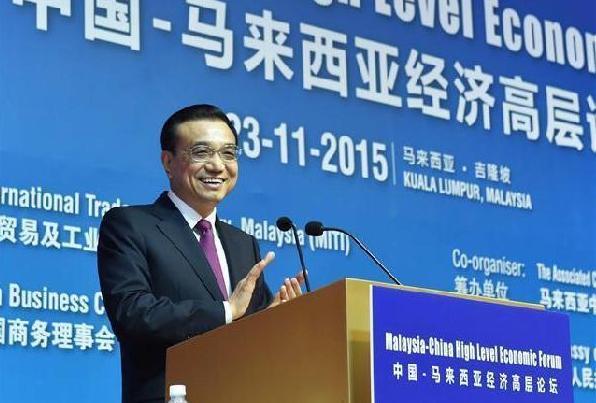 Chinese Premier Li Keqiang addresses the China-Malaysia High Level Economic Forum in Kuala Lumpur, Malaysia, Nov. 23, 2015. [Xinhua]
What message has the "new Keqiang index" sent to the world? The question, posed by China Business News, was answered by the newspaper on Tuesday.
In an article published in the Economist magazine on Nov. 2, Chinese Premier Li Keqiang mentioned that the criterion of the three indicators, namely, power consumption, rail-cargo volume and new bank credit known as the "Keqiang Index," which the Chinese government uses to assess its economic performance, has been altered. Li stressed that in the future the government will pay closer attention to employment, residents' income and the continuous improvement of the ecological environment. Therefore, analysts have dubbed these added indicators of employment, residents' income and energy consumption per unit of GDP the "new Keqiang index."
The "Keqiang Index" was first publically mentioned in 2007 when Li was secretary of the Liaoning Provincial Committee of the Communist Party of China. While meeting with visiting foreign guests, Li said that he preferred the three indicators to be used to evaluate the local economy because they could squeeze out the overstatement in statistics. At the end of 2010, the concept was put forward by the Economist magazine and made known to the world.
However, incompleteness is hardly avoidable for any indicator or index. In Liaoning Province, where industry is given the priority, it is appropriate to judge the local economy through the "Keqiang Index." With the constantly changing economic structure, particularly with the continuously increasing proportion of the service industry, and the continuous improvement of energy saving and environmental protection technologies, the local economic aggregate is increasing, while the volume of railway freight and the volume of power consumption may fall instead of rising.
From this perspective, the change of the "Keqiang Index" into the "new Keqiang index" is the product of China's "new normal" economy, and also reflects the decision-makers' viewpoints of keeping pace with the times. More importantly, the "new Keqiang index" has sent a message that the Chinese government has gradually shifted the focus of its work from economic development to coordination of the economy, people's livelihood, employment and the environment. In any case, the "Keqiang Index" is still centered around the GDP, while the three indicators added to the "new Keqiang index" have surpassed the scope of the GDP even though they're still related to it.