UNDP official: China contributed 76% of global poverty reduction
chinagate.cn by Jiao Meng, October 15, 2015

Adjust font size:

Q: China's role to realize global poverty reduction goals

A: When UNDP first set up office in China over 30 years ago, we were focused on supporting China to eliminate poverty, to address environmental challenges, and address many more domestic challenges. However, more recently over the last 5 years we have been also partnering with China to share its unique development experiences with the world, while also supporting China to strengthen its approach to South-South and Global Cooperation.

This is very important. Many developing countries see China as an inspiration for achieving development results, as its development experiences are recent and very relevant – many developing countries have similar institutions and challenges that China faced 30 years ago. At the same time, China is also signaling that it wants to have a positive impact on the achievement of the global goals by other countries.

Thus, China's announcements at the UN Summit and US visit related to increasing south-south cooperation are very welcome indeed. Specifically, China earmarked new pledges to a number of UN agencies, and announced new or larger funds, as well as new institutions for managing scholarships and training provided to other developing countries, debt cancellation for several developing countries, and new contributions to peacekeeping forces. While details are yet to be released on how the funds and institutions will be managed and linked to existing Chinese bilateral commitments, they are nevertheless welcome as a much needed and unique contribution to supporting other developing countries to meet the SDGs.

Globally, UNDP has 469 projects across 133 countries that have integrated South-South Cooperation as a modality to deliver sustainable development results, and we also host the UN Office for South-South Cooperation, which helps coordinate the work in this area across all the UN agencies. Furthermore, China and UNDP have recently completed the first-ever triangular pilot cooperation with Cambodia, targeting 200,000 cassava farmers, processors and exporters to enhance exports from Cambodia and thereby improve their livelihoods sustainably. With Bangladesh and Nepal, China and UNDP have established a strong disaster risk reduction network spanning 2,000 community volunteers, and in Zambia and Ghana, China and UNDP are sharing best-practices in renewable energy transfer. UNDP has also supported China's south-south cooperation policy, for example through input to China's 2nd White Paper on Foreign Aid which was published in 2014. UNDP therefore looks forward to continued and increasing collaboration with the Chinese government in this area.

Q: The biggest difficulties for China to implement its further poverty reduction process

A: The final MDG report for China released in July 2015 by the UN and the Ministry of Foreign Affairs shows that there are three key remaining domestic challenges for China in meeting all the 8 MDGs. The first is in terms of environment, especially preserving biodiversity. This has major effects not just in China but also beyond its borders, and the government is now taking very seriously. The second in terms of health - especially with regard to tackling HIV and AIDS and other major diseases - which will be important. And the third is in terms of ensuring affordable housing and amenities for the poorest people in urban areas, which will become even more critical as urbanization continues in China.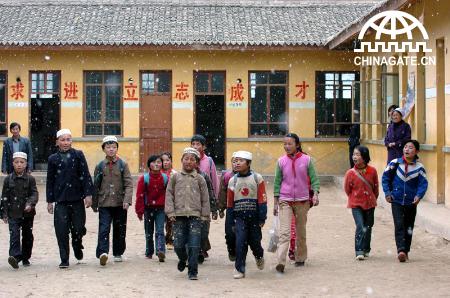 Looking beyond the MDGs to the SDGs, the goal relating to managing rising inequality is also likely to be a challenge. Last but not least, China has already announced a stretching goal of eradicating remaining poverty by 2020, which will also be key, especially in terms of actually ensuring people do not fall back into poverty due to natural disasters and climate change.
China's 13th Five-Year Plan is likely to emphasize stable economic growth combined with a human development agenda, including priority areas such as environmental issues, people's livelihoods and well-being and poverty eradication, and all of these are well in line with the objectives envisaged under the SDGs.