Agenda 2030 vital to Asia-Pacific's future
China Daily, September 29, 2015

Adjust font size: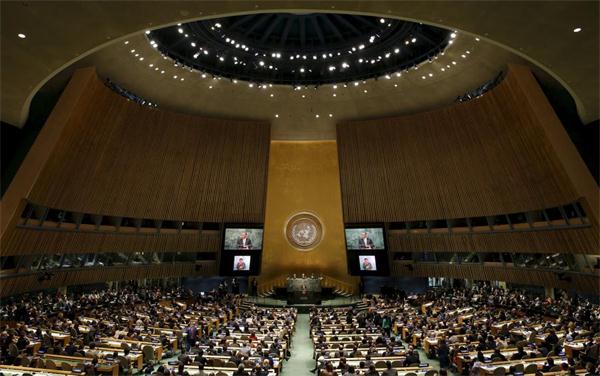 U.S. President Barack Obama addresses a plenary meeting of the United Nations Sustainable Development Summit 2015 at United Nations headquarters in Manhattan, New York, September 27, 2015. More than 150 world leaders are expected to attend the U.N. Sustainable Development Summit from September 25-27 at the United Nations in New York to formally adopt an ambitious new sustainable development agenda a press statement by the U.N. stated. [Photo/Agencies]
The resounding endorsement by global leaders last week in New York of the groundbreaking and transformational 2030 Agenda for Sustainable Development, more than two years in the making, sparks new hope and optimism for multilateralism.
The 2030 Agenda, based on 17 goals and 169 targets, may seem overly ambitious to some, but poverty eradication cannot be sustained without comprehensive progress in economic growth, social justice and ecological sustainability. This is a bold and inspirational new roadmap that will guide us to more sustainable growth, which is resource-efficient and respects planetary boundaries-meeting our present needs without mortgaging the wellbeing of future generations.
This change is urgently needed in the countries of Asia and the Pacific. Although our region has an impressive track record of economic growth and poverty reduction, more than 1.4 billion people still live in poverty, social disparities are widening and growth remains inefficient and wasteful. Our region has a shared responsibility to lead, which is why mainstreaming the 2030 Agenda in development plans and budgets, and backing them with strong oversight will be critical for successful implementation.
Five conditions must be met to pave the way for Asia-Pacific governments to make this happen:
First, sufficient financial resources are needed. The Economic and Social Commission for Asia and the Pacific (ESCAP) estimates that the Asia-Pacific region will need to invest between $2.1 trillion and $2.5 trillion per year to fund a comprehensive agenda for sustainable development. These resources are available: regional national savings total nearly $8.9 trillion, financial assets of the wealthiest regional individuals are estimated to be about $35 trillion, and foreign exchange reserves account for more than $7 trillion. Most of these sources of savings are currently adding to liquidity, held dormant in deposits or financing third-party country deficits. We need instead to effectively harness them along with unwavering political commitment to exploit domestic resources for development. Developing economies of our region have, on an average, among the lowest tax-to-GDP ratios in the world. Leveraging the potential of strengthened tax regimes is key; public interest must override the vested interests so that governments can remove tax exemptions and tackle tax evasion practices which are obstacles to investment in better access to basic services.