Human rights forum eyes peace and development
china.org.cn / chinagate.cn by Liu Qiang, September 17, 2015

Adjust font size:

The right to peace and development is being highlighted at the ongoing 2015 Beijing Forum on Human Rights, which opened Wednesday.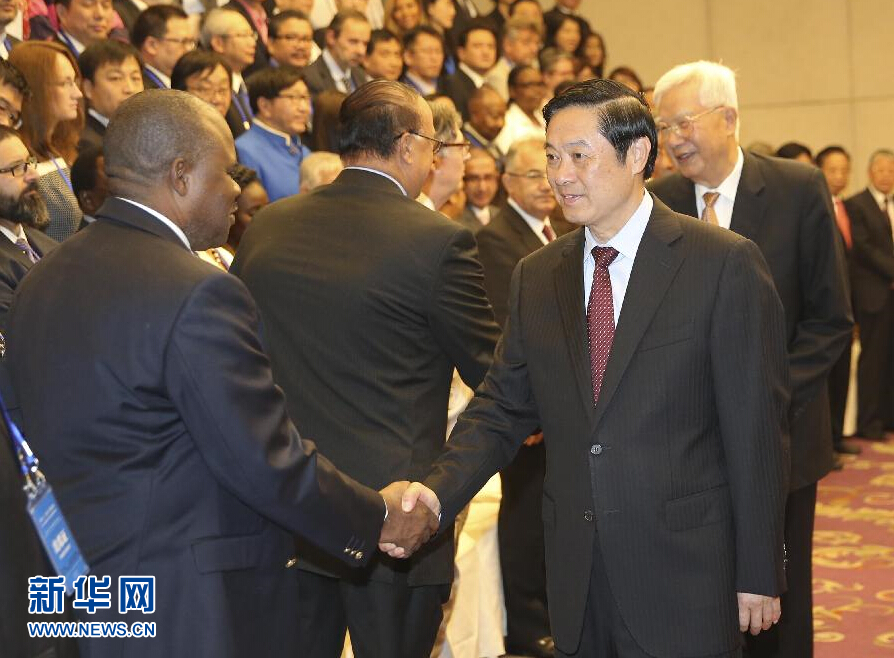 Liu Qibao, head of the Publicity Department of the CPC Central Committee shakes hands with human rights experts attending the 2015 Beijing Forum on Human Rights on Sept. 16 in Beijing. 
The theme of the forum is "Peace and Development: Victory in the World Anti-Fascist War and Human Rights Advancement." The forum attracted more than 100 officials and human rights experts from over 30 countries and regions.
Chinese President Xi Jinping sent a congratulatory letter to the forum. Xi said in his letter that the theme will prompt deeper thinking from all parties on people's right to peace and development.
Xi called on the international community to pay attention to the people's right to subsistence and development especially in developing countries.
"Chinese people are striving to realize the Chinese Dream and the great rejuvenation of the Chinese nation, which will safeguard, on a higher level, Chinese people's human rights and promote the comprehensive development of mankind," said Xi.
Lord Neil Forbes Davidson, member of the UK's House of Lords, applauded this forum for "providing a valuable counter to the dangers of too narrow a view of human rights." He also warned that, "Failure to respect the rights of other societies has too often been a precursor to destructive war."
"Human societies that have evolved their own characteristics may evolve an approach to human rights that reflects their own traditions and culture," said Davidson in his keynote speech at the forum.
President Xi continued to emphasize this, saying, "In terms of human rights guarantees, there is no best, only better."
There is growing human rights awareness among the Chinese public, which is seen as a kind of positive energy in China's social development, according to the Report of Chinese Public Opinions on Human Rights published by Southwest University of Political Science and Law.
The forum was jointly organized by the China Society for Human Rights Studies and the China Foundation for Human Rights Development. The annual event was first held in 2008 and has grown to be a key platform for human rights exchanges among different countries, ethnicities and cultures.
The China Society for Human Rights Studies is China's largest non-governmental organization in the field of human rights. It is also a member of the United Nations Conference of Non-Governmental Organizations, which enjoys a special consultative status with the United Nations Economic and Social Council.