UNICEF: 90% of China's New HIV Infections Sexually Transmitted
china.org.cn by Victoria Cole, June 25, 2015

Adjust font size:

United Nations Children's Fund (UNICEF), along with the National Working Committee on Children and Women (NWCCW) and the National Bureau of Statistics (NBS), has published the 2014 "Children in Asia: An Atlas of Social Indicators", providing perspectives of the various situations of children in China.

With the help of many visual aids, this fourteen-section publication reports relevant socio-economic information, reflecting China's achievements and disparities for children and serves as a "comprehensive and detailed resource for relevant government departments, child rights practitioners and the general public."

HIV/Aids (Section 14)

Estimates show that at the end of 2011, of the population in mainland China, 780,000 lived with PLHIV and 154,000 lived with AIDS. There were approximately 48,000 new infections and 28,000 deaths in 2011. Currently, China's HIV epidemic is affecting 0.058% of the total population.

As of 2013, the total cumulative reported cases of HIV stood at around 440,000 – far less than the estimated  780,000 of cases, indicating that a large percentage of people with HIV have not been identified or do not know their status. About 76% of total HIV infections occur in Yunnan, Guangxi, Henan, Sichuan, Xinjiang and Guangdong, collectively.

With the steady government promotion of prevention of mother to child transmission (PMTCT) services, the percentage of mother to child transmission has gradually declined over the past few years to 0.9% in 2013. The percentage of infants born to HIV positive women receiving a virological test for HIV within 2 months of birth was 45.3% in 2013, up from 14.9% in 2010.

Between 2005 and 2013, 4,449 children received AIDS treatment. As of 2013, another 278,080 adults received anti-retroviral (ARV) treatment. The proportion of adults and children receiving ART was 52.1% in 2013, and 85.2% of patients are alive after 12 months of treatment. However, infection rates among 15-24 years old has increased 12.8% compared to the same period of 2011.

Although China has built an extensive HIV Sentinel Surveillance System (HSS), with 1,888 sentinel sites to monitor HIV trends by population groups, HSS still faces challenges, as there is no national data on key affected young populations, their HIV/STI infection statuses and utilization of services.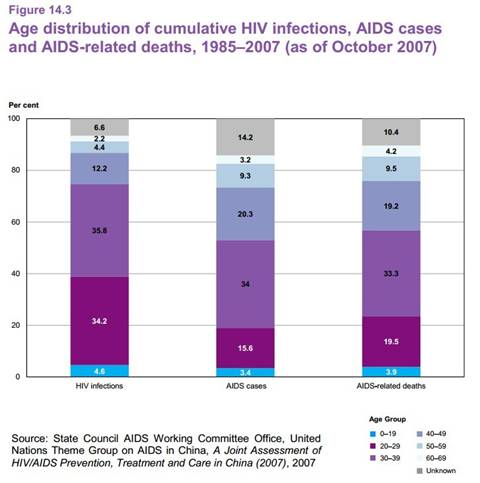 "Over half of the needs for counseling and treatment are not fulfilled":
39.1% of young people need sexual and reproductive health consultation, and 27.1% of young people need treatment. The main barriers to young people's access to services include embarrassment, the lack of seriousness associated with these issues, and inadequate knowledge about where and from whom they can receive information and services.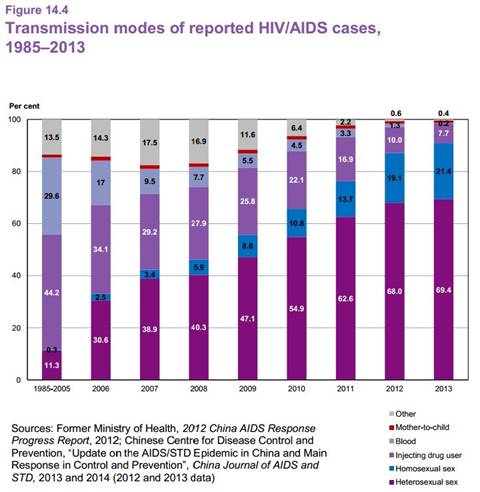 "In 2013, sexual transmission accounted for as high as 90.8% of the newly reported HIV infections":
Young people still lack awareness of the risks of unplanned pregnancy, HIV/AIDS and sexually transmitted infections (STIs). In a 2010 survey, two-thirds of young people (aged 15-24 years) are open to premarital sex, and 22.4% have had sex before marriage. Over half of the young people surveyed had no form of protection in their first sexual encounter.