UNICEF: Children's Proportion to Population, Decreasing Dramatically
china.org.cn by Victoria Cole, June 25, 2015

Adjust font size:

United Nations Children's Fund (UNICEF), along with the National Working Committee on Children and Women (NWCCW) and the National Bureau of Statistics (NBS), has published the 2014 "Children in Asia: An Atlas of Social Indicators", providing perspectives of the various situations of children in China.   

With the help of many visual aids, this fourteen-section publication reports relevant socio-economic information, reflecting China's achievements and disparities for children and serves as a "comprehensive and detailed resource for relevant government departments, child rights practitioners and the general public."

Population Demographics (Section 1)

China's population has more than doubled during the last five decades to 1.36 billion people in 2013, about 20% of the world population. The population aged 0–14 years represented 34% of the total population in 1982 and only 16% in 2013. Oppositely, people aged 65+ years doubled between 1982 and 2013, equaling 10% of the total population, indicating a heightened nature and scope of public services needed and enormous pressure on younger generations to become caregivers.

Total fertility rate and birth rates have gradually declined since the 1970s, when China began to implement the family planning policy to limit population growth. In China, the total fertility rate (TFR) of women has fallen below the replacement level of 2.1, estimated at only 1.6 for 2010-2015.

China's family planning policy has been relaxed over the years with exceptions in rural areas, where couples have two or three children. China further relaxed its family planning policy in 2013 to allow couples to have a second child if one parent is an only child.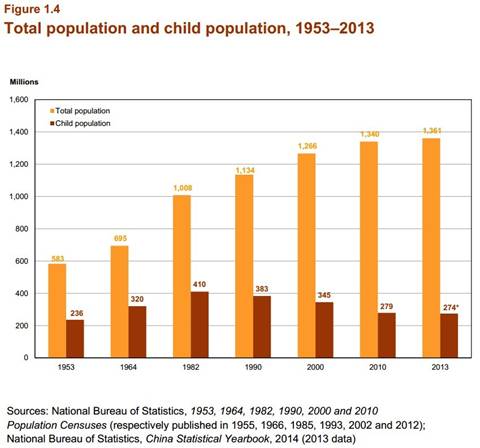 "While China's population continues to increase, the growth rate has slowed": 
Despite the 21% decline between 2000 and 2013, China still had the world's second largest child population (aged 0-17 years), with an estimated 274 million children in 2013, or 14% of the world's population of children.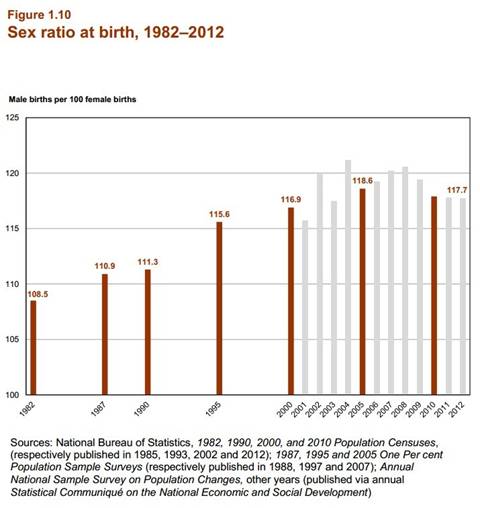 "In 2013, there were 34 million fewer females than males in China": 
While the global norm for sex ratio at birth ranges between 103 and 107 male births to every 100 female births, data for 2012 show a sex ratio at birth of 117.7 males for 100 females for China, creating future issues in social and economic development and changing societal and gender relations.