UNICEF: Expanded Immunization Programme, Very Successful
china.org.cn by Victoria Cole, June 24, 2015

Adjust font size:

United Nations Children's Fund (UNICEF), along with the National Working Committee on Children and Women (NWCCW) and the National Bureau of Statistics (NBS), has published the 2014 "Children in Asia: An Atlas of Social Indicators", providing perspectives of the various situations of children in China.   

With the help of many visual aids, this fourteen-section publication reports relevant socio-economic information, reflecting China's achievements and disparities for children and serves as a "comprehensive and detailed resource for relevant government departments, child rights practitioners and the general public."

Expanded Programme on Immunization (Section 4)

Since its introduction in 1978, the Expanded Programme on Immunization (EPI) in China has been an extremely successful and cost-effective public health intervention and has led to dramatic decreases in the diseases targeted by the EPI: poliomyelitis, measles, tetanus, pertussis, diphtheria and hepatitis B. The Hib, pneumococcal and rotavirus vaccines, is available in China as secondary category vaccines, but are not part of the national immunization programme.

- In 1990, China achieved Universal Childhood Immunization, defined as immunization coverage above 80%.

- In 2004, the State Council adopted the revised Law on Infectious Disease Control and Prevention, making routine immunization for children free of charge.

- In 2008, China increased the number of vaccines included in the routine EPI schedule, to protect children against 12 infectious diseases.

- In 2012, WHO formally declared that maternal and newborn tetanus and polio had been eliminated in China.

However, challenges remain for the EPI: insufficient operational funds and human resources to administer the increased number of vaccines and accordingly increased number of monitoring activities, limited capacity in numbers and expertise of health personnel and logistical and geographical factors in some areas, inequities regarding uneven quality of immunization service, persistent circulation of certain vaccine-preventable diseases and migrant children living in urban areas having relatively low rates of vaccination coverage.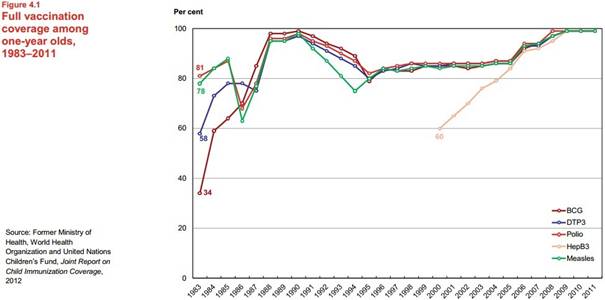 "In 2004, the Government made routine immunization services free of charge for children. Vaccination coverage has since risen accordingly":
Through the EPI, national vaccination coverage reached levels of above 90% by the early 1990s. A slight drop in vaccination coverage was noted between 1991 and 1996 – a result of reduced financial investment in the programme at the beginning of the economic reforms.
National vaccination coverage of BCG, DTP3, polio, HepB3 and measles all reached 99% since 2009.