UNICEF: China's Poverty Reduction Progress, Enviable and Impressive
china.org.cn by Victoria Cole, June 24, 2015

Adjust font size:

United Nations Children's Fund (UNICEF), along with the National Working Committee on Children and Women (NWCCW) and the National Bureau of Statistics (NBS), has published the 2014 "Children in Asia: An Atlas of Social Indicators", providing perspectives of the various situations of children in China.   

With the help of many visual aids, this fourteen-section publication reports relevant socio-economic information, reflecting China's achievements and disparities for children and serves as a "comprehensive and detailed resource for relevant government departments, child rights practitioners and the general public."

Economic and Social Development (Section 2)

China, with a GDP per capita of only US $165 in 1978, is now the world's second largest economy, with annual growth rates averaging 9% over the past 30 years, and GDP per capita of US $6,807 in 2013.

The government has successfully abolished tuition and miscellaneous fees across China's rural and urban areas and has been providing free textbooks and boarding subsidies for the poor in rural areas and seeks to further ensure adequate financing for educational development, equal access and improved education quality. Additionally, subsidies have been provided to poor households' children, orphans, and children with disabilities to enable access to pre-primary education. By 2013, compulsory school aged students, located in poverty-stricken areas of 300 counties, also began to receive central government subsidies for nutritious meals at school.

The new Rural Cooperative Medical Scheme (RCMS) has reached 98.7% of the rural population. While in urban areas, children, unemployed and senior citizens previously excluded from medical insurance have benefited from the 2007 basic medical insurance scheme. Since 2011, rural children aged 0-14 who have joined the new RCMS are eligible to receive reimbursement in treating six types of congenital heart disease and leukemia. Immunization against 15 diseases and treatment for selected communicable diseases are now also provided free of charge.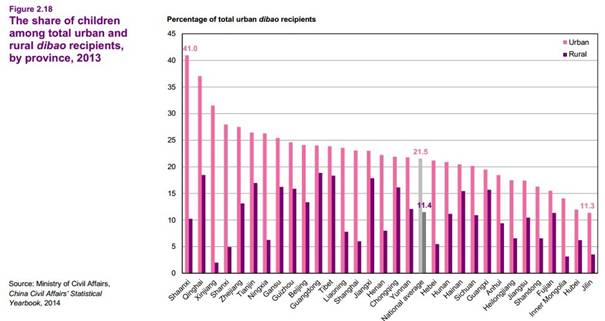 "By international standards, both the urban and rural dibao schemes show a good targeting performance":
Urban and rural minimum subsistence allowance schemes (dibao) have received greater funding and increased their population coverage and benefit levels. (The dibao, varying from RMB 279 to RMB 640, is received by eligible households so that they reach the locally-established minimum living standards.)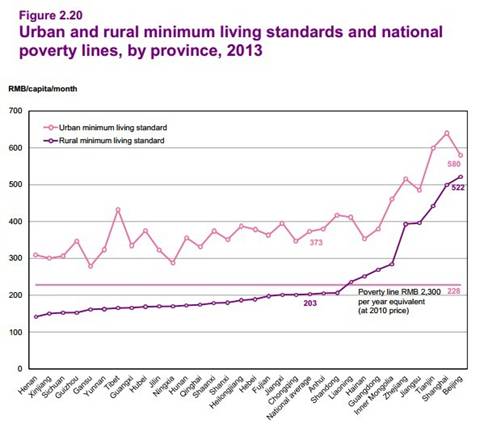 "China's progress in poverty reduction over the past three decades is enviable and impressive":
As more improvements are to be made, the Government's aim for the future is to:
- Integrate household registration systems by desegregating the agricultural and non-agricultural Hukou and establishing an urban-rural integrated residence permit system.
- Expand the coverage of basic urban public services, such as compulsory education, employment services, basic pension, basic health services and housing, providing the migrant population with the same services and equal rights as locally registered populations.
- Improve public financing for equalized basic public services.
In 2014, the Government also endorsed the Child Development Plan in National Poverty Areas, covering life-cycle periods from birth to the compulsory education stage to improve education and health of children in "poverty blocks."