The final push to end extreme poverty
China Daily by Jim Yong Kim, May 6, 2015

Adjust font size: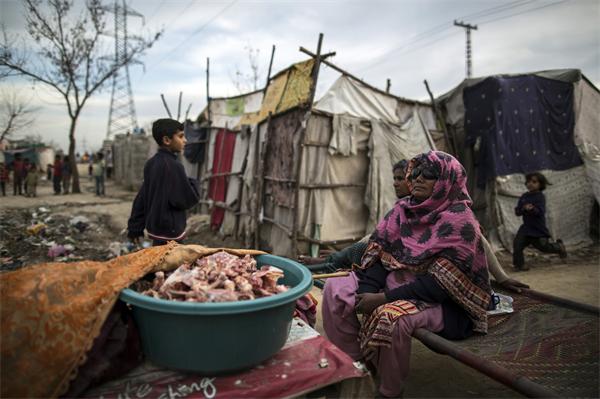 A street vendor waits for customers as she sells chicken outside her makeshift shelter at a slum on the outskirts of Islamabad March 10, 2015. [Photo/China Daily]
The year 2015 is the most important for global development in recent memory. In July, world leaders will gather in Addis Ababa, Ethiopia, to discuss how to finance development priorities in the years ahead. In September, heads of state meet at the United Nations to establish the Sustainable Development Goals - a group of targets and goals set for 2030. And in December, countries will gather in Paris to work out an agreement on climate change.
This year has also seen the emergence of a major new player in development - the Asian Infrastructure Investment Bank led by China, with more than 50 countries and regions signing on as members. With the right environment, labor and procurement standards, the AIIB, and the New Development Bank established by BRICS countries, can become great new forces in the economic development of poor countries and emerging markets.
We hope these new institutions will join the world's multilateral development banks and our private sector partners on a shared mission to promote economic growth that helps the poorest.
The decisions we make this year and the alliances we form in the years ahead will help determine whether we have a chance to end extreme poverty by 2030, the central goal of the World Bank Group.
The good news is that the world has made substantial progress already. Over the past 25 years, we've gone from nearly 2 billion people living in extreme poverty to less than 1 billion. But that means we still have nearly 1 billion people living on less than $1.25 a day.
We know it's possible to end extreme poverty in the next 15 years, in part because of the past success, and because we have learned from years of experience about what has worked and what has not. As a result, our advice to governments has evolved over time. Our strategy to end extreme poverty can be summed up in just three words: Grow, invest and insure.