Murder case review delayed for 9 years
China Daily, November 28, 2014

Adjust font size: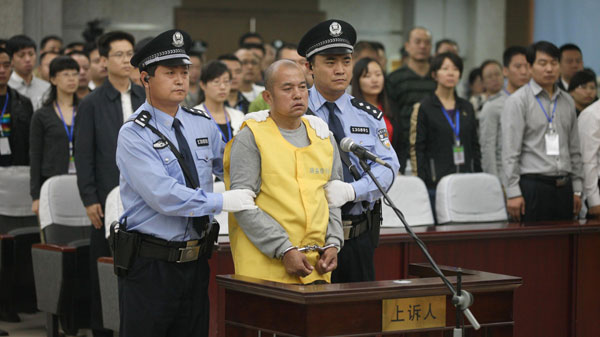 Wang Shujin, a death row prisoner convicted of raping and killing at least four women, stands trial at Handan Intermediate People's Court, in Handan, North China's Hebei province, in September in 2013. [Photo/Xinhua]
Nie Shubin, 21, was executed in 1995 for the rape and murder of a woman in Shijiazhuang in 1994. Ten years later, another man, Wang Shujin, 46, who was being held by the police in connection with three other rape and murder cases, confessed to raping and killing the woman in Shijiazhuang.
Nie's family asked Hebei High Court to retry their son's case after they heard about the confession. In the nine years since, there has been no clear answer to that request, and even requests to read historical court files have not been honored, they say.
Liu Bojin, the family's fourth lawyer, went to the court on Tuesday and asked to read Nie's case files. The judge who received him denied the request on grounds that files relating to the execution itself—including such things as photographs—and the appeal papers were not open to the public, and the lawyer left empty-handed.
But Liu said the denial is improper. "We did not ask to read execution files or appeal papers. We are asking to read court records from the trials," Liu said, adding that an attorney's right to see court files is protected by the Criminal Procedure Law.
Liu believes the evidence does not support Nie's death sentence, and a retrial of the case has legal grounds whether or not Wang was determined to be the real killer.
Wang was sentenced to death in July 2007 during the first trial but he appealed for leniency on the grounds that he confessed to his crimes, including the 1994 rape and murder case for which Nie was executed.
His appeal was rejected in September 2013. The court said that Wang's version of the 1994 crime did not correspond to several important details uncovered by the police. His description of the crime scene was possible because he worked in a nearby factory and not because he was involved in the murder, prosecutors said.
Hebei High Court did not believe Wang's confession and ruled in September last year that he was not the woman's killer. As a result, the verdict against Nie stands.
In September 2011, more than 60 law professors and lawyers held a seminar in Shijiazhuang to discuss Nie's case. The seminar concluded that there was sufficient doubt to warrant a retrial. They publicized an online petition to enlist the support of the public.
Nie was tried behind closed doors in 1995, and his parents were barred from the courtroom. Nie told his lawyer at the time that he was beaten into a confession on his sixth day in jail, his mother said. Seeing him limp into the courthouse before the first trial, Nie's mother was convinced that her son was a victim of torture.
Seven months after he was first detained, Nie was executed without his parents being notified.
Lawyers for a man who may have been wrongfully executed say that requests to see their client's files have been rejected 54 times, raising allegations from the man's family that the highest court in Hebei province is deliberately impeding efforts to clear his name.