Kim Jong Un makes 1st public appearance in 40 days
Xinhua, October 14, 2014

Adjust font size:

Top leader of the Democratic People's Republic of Korea (DPRK) Kim Jong Un has gave field guidance to a newly built residential district, the official KCNA news agency reported Tuesday, his first public appearance in about 40 days.

Kim has not been seen in public since he watched the performance of the Moranbong Band with his wife Ri Sol Ju here at the Mansudae Art Theater on Sept. 3. His longest absence from public events since he took power has drawn the world's attention and fueled speculations about his health.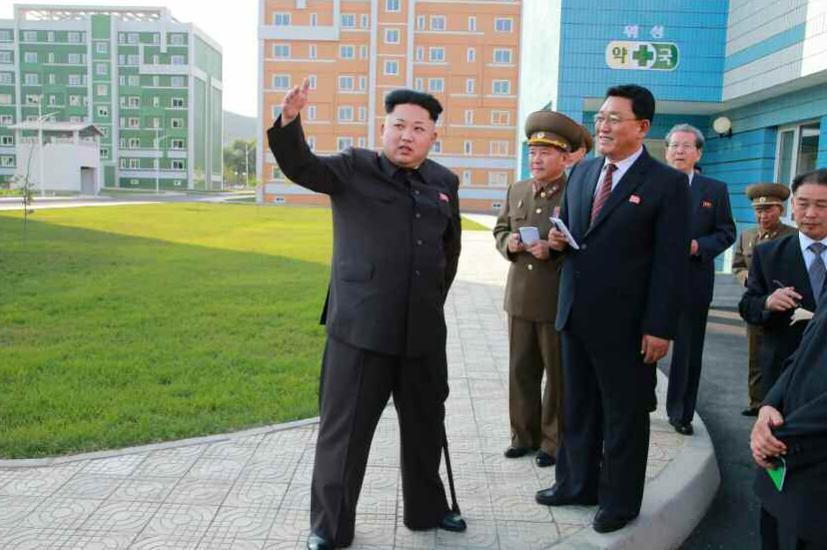 A photo published Tuesday by the official Rodong Sinmun newspaper of the Democratic People's Republic of Korea shows top leader Kim Jong Un with a walking stick. [photo: Sina]
The KCNA reported in the report dated Tuesday that Kim expressed satisfaction after he learned in detail about the construction of the newly built Wisong Scientists Residential District.
"Watching the exterior of the apartment houses and public buildings nicely decorated with diverse color tiles, he was very pleased to see them. He said they looked very attractive, presenting fantastic scenery," the report said.
Kim also visited the newly built Natural Energy Institute of the State Academy of Sciences on the same day, the state media said, without giving the exact date he made the visits.
On Sept. 25, Kim did not show up at the second session of the Supreme People's Assembly, the DPRK's top legislative body.
The next day, a short video clip broadcast on the Korean Central Television said Kim was still busy leading the DPRK people with enormous enthusiasm despite his recent ill-health.
However, on Oct. 5, South Korean Unification Minister Ryoo Kihl- Jae said Kim Yang Gon, a senior leader from the DPRK, told him privately that there was no problem with Kim's health during the visit of three senior DPRK officials to South Korea for the closing ceremony of the 17th Asian Games.
On Oct. 10, Kim did not visit the Palace of the Sun at Kumsusan, which was a commemorative ceremony marking the 69th anniversary of the founding the ruling Workers' Party of Korea (WPK).
Each year as a ritual, he would pay tributes to the deceased leaders of the DPRK, Kim Il Sung and Kim Jong Il, at the Kumsusan Palace of the Sun since he assumed power in late 2011.
Kim was a no-show at a national meeting on Oct. 7 to mark the 17th anniversary of former top leader Kim Jong Il's election as general secretary of the WPK.