A foreign birder's life wandering in nature in Beijing
chinagate.cn by Guo Rui, October 9, 2014

Adjust font size: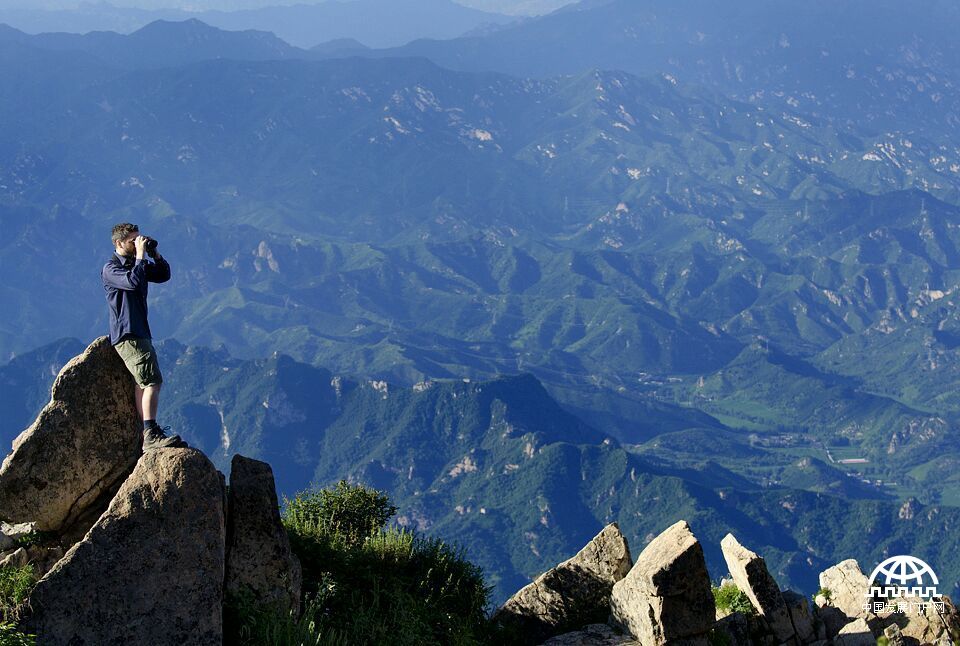 Passionate, dedicated, dynamic urban birdwatcher Terry Townshend is a native Englishman whose Chinese name is Tang Rui.
There are more than 10,000 kinds of birds around the world, and China has 1371 recorded bird species, of which 76 are unique to China. The fairy-like flight of birds has long enchanted people, and birdwatching is a passion for many. Birdwatching first arose in eighteenth century Britain as merely a pastime for nobles, but it has developed into an outdoor activity that is now popular worldwide. Wandering in nature, listening to the birds and spotting different kinds of birds is the most pleasant pursuit and the most natural enjoyment in the eyes of bird-watchers.
Perhaps you think that one needs to go birdwatching in the country, away from the bustle of the city, but in fact, this is not the case. As the environment has gradually improved, many birds have returned to cities, adding vitality to the modern urban landscape. China's capital, Beijing, a city once troubled by severe smog, has at least one passionate, dedicated and energetic bird-watcher. His name is Terry Townshend, a native Englishman whose Chinese name is Tang Rui. Since he came to Beijing in 2010, Terry and other Beijing's birdwatching enthusiasts have sighted and recorded 459 kinds of birds; Terry himself sighted 352 species. In his opinion, Beijing is not a place of "thousands of mountains without the sound of a bird's wings" like most people imagine, but a place where "birdsong can be heard everywhere ".
Drawn to birds at age four, he began capturing the little fairies with his lens
Terry has felt attached to birds since he was very young. Because his home was fairly close to the beach and there was a nature reserve nearby, his family's garden always attracted many birds. Twittering around, those birds made the garden lively and triggered a strong interest in little Terry. He made his first bird species identification when he was just four years old. His innate affinity for and continued observation of birds made Terry continue to ask his father and mother questions about these little creatures. When they failed to satisfy Terry's curiosity, his parents bought him a birdwatching book. Since then, Terry has not been able to stop living a wonderful life closely linked to birds and environmental protection, which led him to choose environmental economics as his major at university. So far, he has independently observed and recorded about 2000 kinds of birds, and he can be regarded as a veritable birder.
As a bird enthusiast, Terry has his own professional birdwatching equipment. He has a black shoulder bag filled with a telescope, a pair of binoculars, two SLR cameras plus a telephoto lens, plus notebooks and ball point pens in its top pocket. In addition to his bag, Terry also carries a tripod on his shoulder. His small birdwatching notebook records all the details of his excursions, and when he sees birds he can't describe, Terry will sketch their external features alongside his notes.
Terry usually starts a day of birdwatching at 4:30 in the morning, so that the sun is just coming up when he arrives at the urban parks or the countryside. Because two or three hours after dawn is the most active period for birds, and because many people are still sleeping at this time, this is the most enjoyable time of day for Terry, when he can commune with birds unhindered.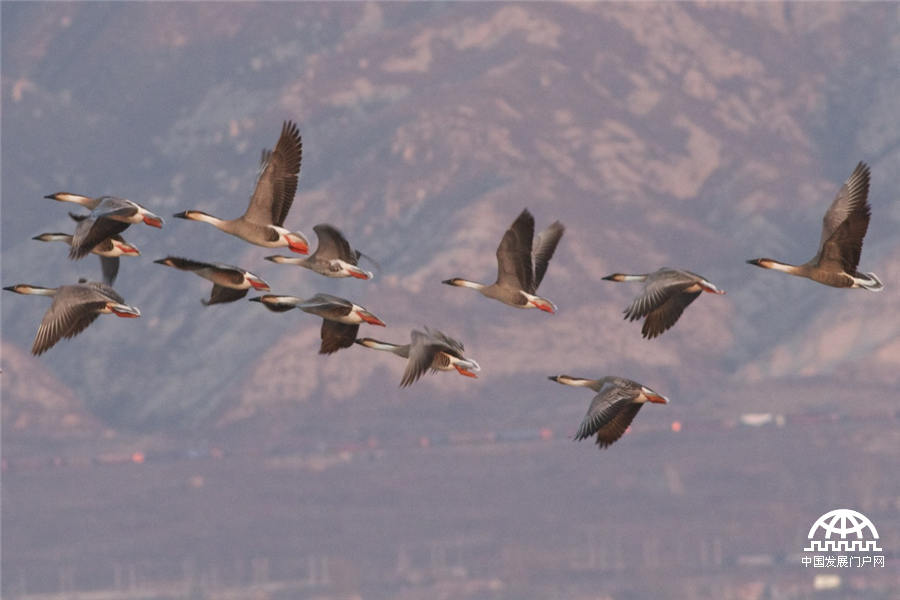 Swan Geese (Ma Chang), photo by Terry Townshend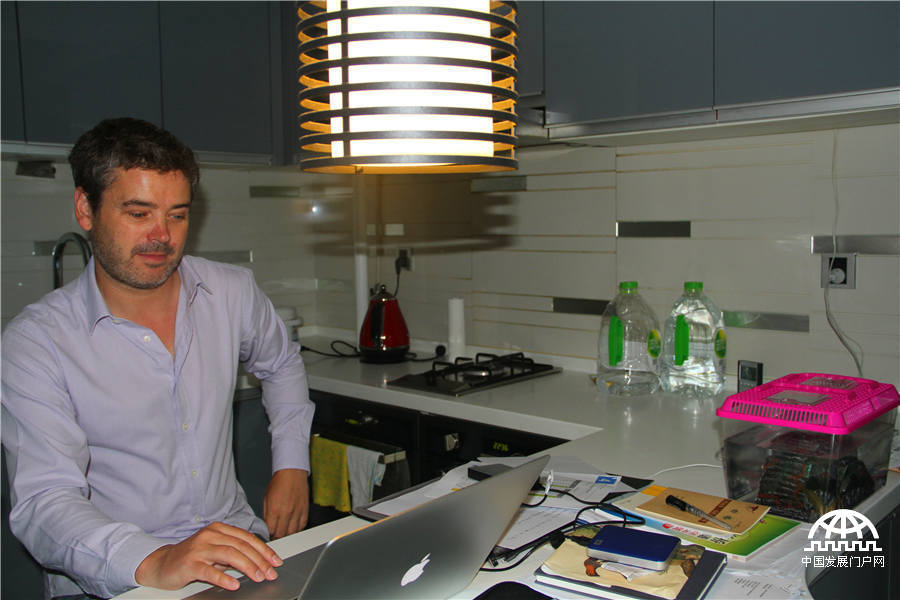 Passionate, dedicated, and dynamic city birdwatcher Terry Townshend is a native Englishman whose Chinese name is Tang Rui. This is where he usually uploads birdwatching notes and photos to his blog, "Birding Beijing," which now has notes on almost 200 birdwatching excursions. Photo by Wang Zhenhong