Ice Bucket Challenge craze sweeps China
chinagate.cn by Wang Hongyan, August 22, 2014

Adjust font size: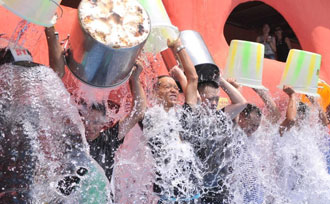 The Ice Bucket Challenge has flooded the Chinese social media over the past week. The challenge has surpassed 1 billion micro blog views and has received donations of 2,679,178 yuan (US$434,952) within five days, Beijing News reported.
The Ice Bucket Challenge, which began in the United States, requires the challenger to pour a bucket of ice water over his/her head. After completing the challenge, participants then challenge others within their social media network to do the same or avoid doing so by pledging to donate US$100 to the ALS Association. A number of celebrities, ranging from Bill Gates to Apple Inc CEO Tim Cook, have completed the challenge and posted their videos on the Internet.
Zuohu Liu, CEO of a famous cell phone company and the first Ice Bucket challenger in China, posted his challenge video on the Internet on Aug. 17 and challenged another three celebrities to do so. Then, Chinese celebrities from all walks of life rushed to take part in the campaign and the campaign raised nationwide awareness of ALS.
ALS is a rare disease that gradually reduces patients' muscle strength, eventually rendering them paralyzed and unable to speak, move, swallow and breathe. Stephen Hawking, the famous British scientist, is the best-known ALS patient. In China, this disease is known as "gradually frozen human sickness."
According to the World Health Organization, the rare disease affects a small percentage of the population, ranging from 0.65 in 1,000 to 1 in 1,000. More than 6,000 rare diseases have been confirmed so far.
Nearly 10 million patients suffering from rare diseases in China are facing difficulties receiving proper diagnosis and treatment, Xinhua News Agency reported. The Ice Bucket Challenge has made the whole nation aware of this deadly rare disease and brings hope for the long-suffering patients.