J-15 fighter on China's aircraft carrier
People's Daily, January 3, 2014

Adjust font size: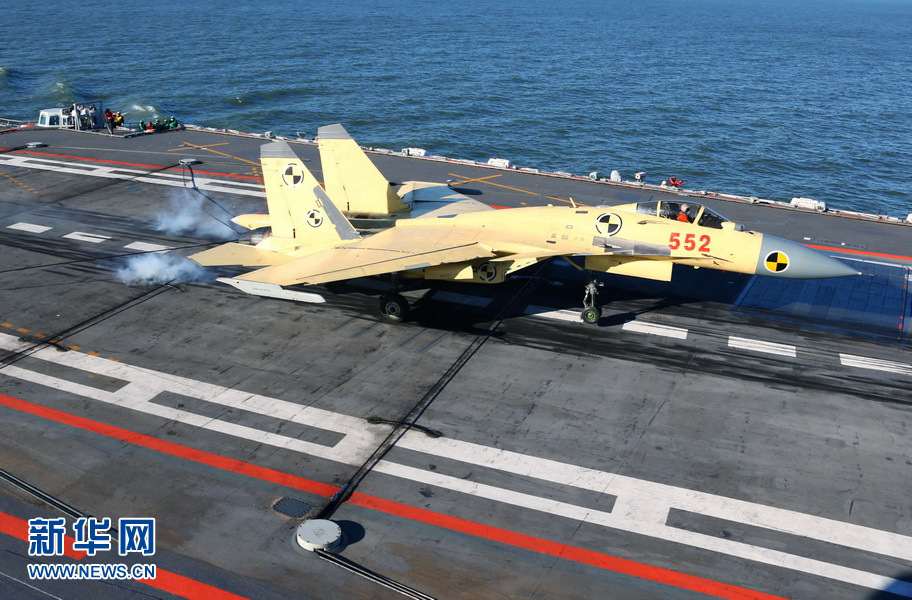 A J-15 aircraft lands on the Liaoning. (Xinhua/ Zha Chunming)
As one of the two takeoff assistants, Zhang Naigang has to make a crucial, split-second decision on whether a J-15 can take off, based on information from the pilot and crew. The crews face dangers as the state-of-the-art weaponry flashed by, just a few meters from where they stood.
The Liaoning's runway is about one-fifteenth the length of a conventional land-based one, and a jet's flame trail can reach a temperature of 2,000 degrees Celsius. If a jet strays slightly from the runway, the flame can blow the nearby takeoff assistants into the sea or simply roast them alive.
Dozens of gestures were designed to facilitate the J-15's maneuvers. Further refinement of the gestures is ongoing. For example, to signal that it's safe for the jet to take off, the assistants originally gestured in the direction of the deck with two fingers. Safety concerns saw the gesture abandoned and replaced by a horizontally raised arm.
The Liaoning, China's first aircraft carrier, has served for a whole year in the People's Liberation Army, since it was commissioned into the Chinese navy on Sept 25, 2012, after being completely rebuilt and undergoing sea trials. It made China the 10th country in the world to have an aircraft carrier in active service.
The aircraft carrier provides three different ways of take-off: the ejection takeoff, the ski-jump takeoff, and the vertical takeoff. The Liaoning can carry fixed-wing aircraft as well as helicopters as designed. The fixed-wing aircraft adopts the way of ski-jump takeoff.