Targets and measures for poverty alleviation in 2017
p.china.org.cn,October 08, 2017

Adjust font size:

In 2016, local governments implemented targeted measures to alleviate and eliminate poverty, and accomplished the task of lifting 10 million people out of poverty. What are the specific targets for poverty alleviation work in 2017 and what needs to be done to achieve the targets? Minsheng Weekly talks to Liu Yongfu, Director of the State Council Leading Group Office of Poverty Alleviation to find out more.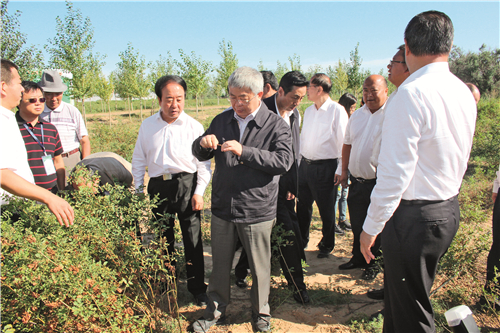 Liu Yongfu(second right, front row)inspecting the licorice base of the Elion Resources Group
Liu Yongfu: The year 2016 was year one in winning the final battle against poverty, and we achieved our goal of lifting 10 million people out of poverty. We will go further this year in taking targeted measures to alleviate and eradicate poverty. 2017 is a crucial year because it allows us to build on past successes and open up new fronts, and the Central Government has specified the target of lifting another 10 million people out of poverty. This is a must, and achieving this target will build a solid foundation for winning the overall war against poverty by 2020.
We had a good head start in 2016 and we must keep up the momentum in 2017. The target set for 2017 is of great significance, and it will demand great efforts to accomplish. But lifting 10 million people out of poverty is a must and we are well-positioned to make it happen.
Firstly, we will continue to strengthen the leadership of the Party, a political asset that we must exploit to encourage public involvement and joint efforts in fighting poverty. It will be impossible to win the war against poverty if we deviate from this principle.
Secondly, we will continue the strategy of taking targeted measures. This means defining the relevant requirements, outlining key tasks, and taking differentiated measures.
We can employ a range of targeted measures to fight poverty, but the key lies in how to get these measures fully implemented. We will focus our efforts on developing various industries, relocating the poor, promoting labor cooperation, and providing better education and healthcare. We will continue to develop e-commerce and the solar power sector, explore opportunities in tourism, provide better access to science and technology, and train high-quality entrepreneurs in poor villages and encourage them take the lead in helping their fellow villagers escape from poverty.
We are determined to succeed. We will raise the profile of projects that can improve the lives of the people, and vitalize regions ridden with poverty due to complex factors by targeting the hard issues. We will improve the assistance provided to special groups including the physically handicapped and those suffering from long-lasting ill health. We will organize projects to alleviate poverty in villages, and accelerate the renovation of substandard housing to provide the poor with satisfactory living conditions.
Thirdly, we must solve the issue of money and people in order to win the war against poverty. To be specific, we need to properly manage financial investment and assign this task to the right people. Since the 18th CPC National Congress in November 2012, local governments at all levels have substantially increased their financial investment in fighting poverty. In 2016, the Central budget allocated 66.7 billion yuan (U.S. $ 9.69 billion) to specific poverty alleviation funds, up by more than 40% compared to the previous year. Pilot programs were launched nationwide to consolidate over 230 billion yuan (U.S. $33.43 billion) of funding for rural development, benefiting more than 30 million registered poor. Financial assistance played a steadily increasing role in poverty alleviation. 170.6 billion yuan (U.S. $ 24.80 billion) of newly issued microloans provided aid to 4.68 million poor households and refinancing amounted to 112.7 billion yuan (U.S. $16.38 billion). Another 72.6 billion yuan (10.55 billion) was issued in special bonds for relocating the poor. In sum, there has been no shortage of financial resources made available for poverty alleviation.
On the other hand, finding the right people to take on the challenge is equally important. We encourage the east China to help in the alleviation of poverty in the western region, couple Central Government agencies with poor regions, send chief party secretaries and working groups to poor villages, and support non-governmental participation in combating poverty. But all these are external factors. The most important thing is to mobilize the local officials and the villagers themselves, to boost morale and free them from the trap of the "poverty-mindset". This means arming the poor with the knowledge and skills they need to fight poverty by transforming their strengths and resources into solid businesses and projects. Finding ways to send viable products to the market will provide the economic support required to eradicate poverty.
Fourthly, we must carry out strict scrutiny and evaluation to prevent funds from being wasted on any kind of token gestures, or misappropriated through fraud.
We will put in place a sound accountability mechanism to assign specific tasks down to individual officials at the appropriate levels. We plan to further improve our means of documenting the poor with a dynamic management mechanism. We will strengthen grassroots level Party organizations to create a solid foundation for channeling external knowledge and expertise to guide village development. To improve transparency and efficiency, we are going to take measures to prevent lip-service, fraud and corruption, and enforce strict supervision on the use of poverty alleviation funds. We will set up incentive mechanisms and spread best practices of self-reliance and hard work to encourage and support poor people to fight their way out of poverty.