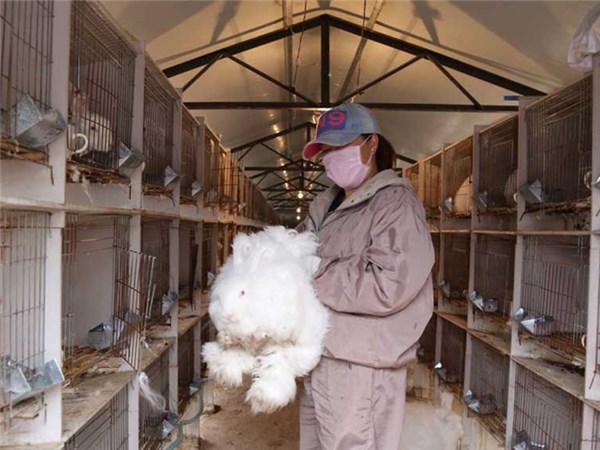 A villager, surnamed Geng, works at a rabbit dorm. Most employees at the farm are local villagers.[Photo by Kou Jiaxiang provided to chinadaily.com.cn]
My life has improved a lot since I worked in the rabbit farm," said 48-year-old Zhang Xiaocui, a native of Baijian village, Laishui county, Hebei province, "I used to be a housewife, but now I can make some money."
Zhang smiles proudly. She has been employed in Xinhui Angora Rabbits Farm since April, 2014 when the farm was founded. The founding was a part of the poverty relief project carried out in Laishui, a national poverty-stricken county.
Though bordering Beijing, Laishui has long been underdeveloped as it is tucked away in a mountainous area, far away from trunk roads and tourist spots. The specialized fund earmarked by the central government provides a golden opportunity for its development.
"I got a monthly salary of 1,800 yuan," said Zhang, who works at the farm every day, raising rabbits and cutting rabbit hair.
She also received 400 yuan in dividends for the year 2015. "If the market price of rabbit hair goes up, I will get more dividends," said Zhang with confidence.
"The price of rabbit hair was near historic lows last year at around 140 yuan per kg, but it has showed signs of a rebound," said Ding Shucai, director of poverty alleviation office of Laishui county, adding that the normal price stands at 240 yuan per kg.
The revenue of the rabbit hair sales has reached 2 million yuan in the last operation year, according to Ding.
Besides the rabbit farm, Baijian village has also built apple and walnut plantations as another main industry to lead its economy.
In 2015, net income per capita exceeded 4,500 yuan for Baijian villagers, surpassing that of the national standard for poverty-stricken counties which stands at 4,000 yuan.