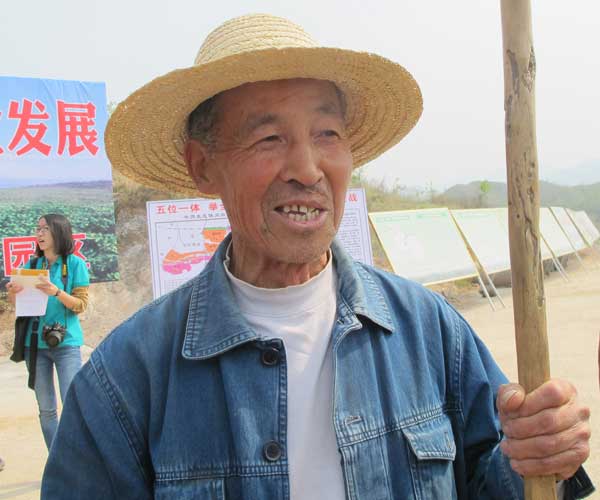 The photo shows Chen Dianying, a 71-year-old native farmer and a member of a poverty-stricken household, in Taidi village, Niugang town, Yixian county, Hebei province, on April 27, 2016. [Photo by Wu Yan/chinadaily.com.cn] 
Just two years ago, there was neither road nor trees where a walnut plantation now grows in Tiangang village, Angezhuang township, Yixian county, Hebei province, a mountainous area about 150 km away from the center of Beijing.
"We planted walnut trees in the spring of 2013 using poverty relief funds earmarked by the government," said Yu Changzhi, Party secretary of Tiangang village. Today the plantation has expanded to 500 mu (33.3 hectares) with more than 35,000 walnut trees.
"The village has very favorable natural conditions with a lake and a river nearby", said Yu. The village also uses the funds to build and renovate roads totaling 5,000 meters and build a 1,500-meter-long diversion canal, good infrastructure for supporting the plantation.
According to the village's development plan, the walnut trees will be able to produce 200 kg of walnuts per mu in 2017. The whole plantation is expected to produce 2 million yuan ($308,200) worth of walnuts. In addition, the income from an orchid cultivation base which is also under development in the plantation, so that the village will be able to climb out of poverty by 2020.
"If a village wants to eliminate poverty and become rich, it has to develop its own industry first," said Yu.
The Thirteenth Five-year Plan has set the goal to relieve people from poverty in rural areas across the country by 2020.
"I see a promising future and I am motivated to work in the plantation," said 71-year-old Chen Dianying, a native farmer and a member of a poverty-stricken household, in Taidi village, Niugang town, Yixian county.
Similar to Tiangang village, Taidi village built its own plantation but has chosen to grow apples due to its unique natural conditions.
He has been employed to do farming work on the plantation for three years, after transferring the usage rights of his land to a villager-run rural cooperative to build the plantation and became a shareholder. This model has become a widely-adopted development model among Hebei's poverty-stricken villages.