关键词:
Liu Yongfu,Volunteering Services Society for China's Poverty Alleviation,anti-poverty efforts,online consultation,volunteering anti-poverty programs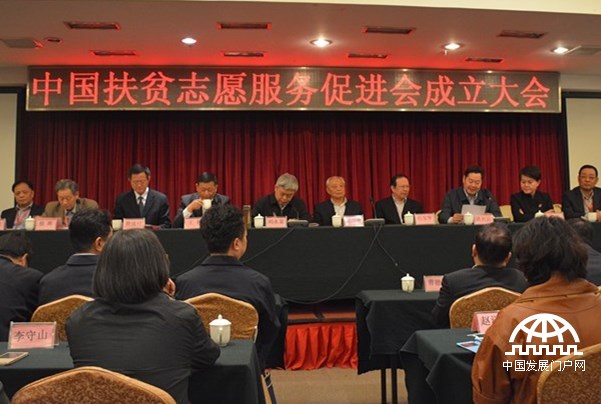 The Volunteering Services Society for China's Poverty Alleviation is founded in Beijing on April 17 with all the delegations taking part in the opening ceremony. [Chinagate.cn/Photo by Liu Hui] 
The Volunteering Services Society for China's Poverty Alleviation was officially founded in Beijing on April 17, as chinagate.cn reported.
As the first national non-profit, volunteer organization focusing on poverty reduction, the Society aims to actively promote volunteerism while encouraging people from all walks of life to support impoverished Chinese citizens.
Liu Yongfu, director of the State Council Leading Group Office of Poverty Alleviation and Development (LGOPAD), was elected as the Society's chairperson and later gave a speech at the opening ceremony.
Liu said that the Society facilitates China's efforts in poverty reduction while serving as a platform for Chinese volunteers. "It is our last but best chance to relieve the suffering caused by poverty as China releases its 13th Five-Year Plan, a blueprint for China's economic and social development from 2016 to 2020."
Liu stressed that the Society would play an important role in collecting and publicizing poverty-related information on a regular basis, mobilizing social forces, consolidating the efforts of all supporters, and realizing its ultimate goal to go further in ending all forms of poverty.
Additionally, he urged that all volunteering events should follow the law, regulations and rules, while volunteers can strive to help the poor using values-based codes of conduct. Meanwhile, Liu underlined that it was necessary to strengthen transparency, integrity and accountability to reduce corruption in poverty relief work as poverty reduction makes steady headway in China.
Liu pointed out that the Society would launch its volunteer-based anti-poverty programs and increase mobility through its social safety net, bridging the communication gap between developed and underdeveloped areas. By setting up an online anti-poverty strategy consultation, it will coordinate anti-poverty actions and programs while tapping the potential of committed supporters.