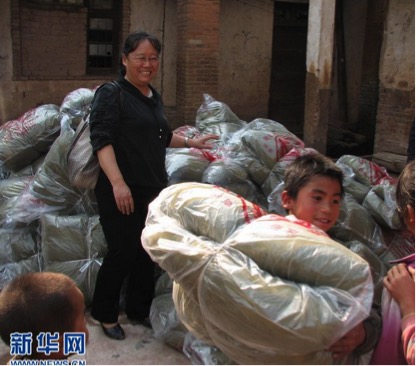 Ding Lian hands out clean sheets to local students of the Hani ethnic minority in Yunnan Province. [Xinhua]
Ding Lian, a veteran journalist with the Red River Daily in southwest China's Yunnan Province, has been dubbed as a "Mother Who Marches to End Poverty" mostly because of her outstanding contribution to China's poverty reduction and alleviation in the past 16 years.
Late last year, Ding was also honored as one of the most inspirational figures with the Most Touching Award at the China Poverty Alleviation Awards Ceremony for her ongoing efforts, Xinhua News reported.
"My original desire to end poverty will never change, and I will contribute all my potential to achieve that goal," insisted Ding as she encouraged more volunteers to join her.
From Casual to Commitment
The 54-year-old's first encounter with rural poverty was purely accidental. In 1999, Ding drafted a report on a loving but poor mother who took care of a bed-ridden child that had been abandoned at birth. As Ding pictured the scene of this poverty-stricken family, a mixed feeling of excitement and fear of the unknown lingered in her mind. Since then, she has actively engaged in a similar tough mission aiming to end rural poverty and help the needy.
In 2007, Ding proposed to financially support several youngsters in extreme poverty whose families had just been involved in a tragic car accident in Gejiu, a traditional tin mining industrial city in Yunnan. A total of 17 children received financial aid, with Ding helping five of them.
Two years later, Ding appealed for government and social assistance again in saving school dropouts of the Hani ethnic minority mostly living in an underprivileged village in Yunnan.
Frequently hit by poverty and widespread floods particularly in the rainy season, students there had little time for schooling. Through Ding's initiative, 96 students began to resume their school life. In the following seven years, Ding continued her work, as her idea of poverty alleviation began to arouse strong echoes among local communities. In 2010, 112 students altogether were privately funded to continue their education.
Ding frequently visits the ethnic minority group while making even larger donations to its neighboring schools. From food containers to books, Ding brought as many as she could to enrich student's life and improve local school conditions.
"The poverty there was far beyond my imagination. Despite schools being obliged to provide free education, students in dire poverty even could not complete primary school life for various reasons, such as, bad road conditions, living in a remote mountainous area, and a complete lack of daily necessities," explained Ding.
Based on her experiences in ensuring rural children have access to formal education, Ding called for a nationwide campaign and donations to build a bridge that connects the outsider world and the children inside. In 2014, a 32-meter-long chain bridge was completed, which links almost 67 left-behind children in rural area to a nearby school.
"It was so difficult and dangerous for those children to cross a shaky bridge made from bamboo over a river - he only way to school. They really needed help," recalled Ding.