Think tanks gather to mark China-ASEAN relations
china.org.cn / chinagate.cn by Lin Liyao, April 12, 2016

Adjust font size:

An international conference was held in Beijing on April 11 to celebrate the 25th anniversary of the establishment of China-ASEAN dialogue relations.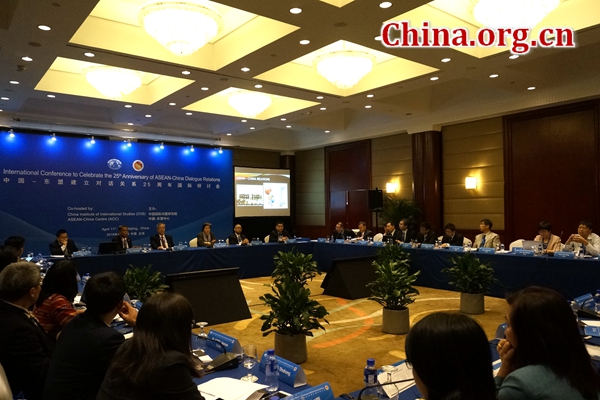 The opening session of the international conference is held on the morning of April 11 in Beijing. [Photo by Lin Liyao/China.org.cn]
Su Ge, president of China Institute of International Studies (CIIS), addressed the meeting. "China and the ASEAN initiated dialogue relations in 1991. During the past 25 years, both the world and the region have undergone significant changes. It's so delightful to see that friendly relations between China and ASEAN countries have endured through so many changes and have been continuously reinforced," said Su.
"In the world, there are many things you can choose, but one thing you can't choose is your neighbors. That's why it's very important for us to improve and enhance our already good relationship," Su said. "China and the ASEAN must work together and strengthen at least three pillars -- economy, security, and culture -- in order to inject new momentum into regional cooperation."
Yang Xiuping, secretary-general of the ASEAN-China Center (ACC), said during the opening session that the ASEAN and China are close neighbors and long standing friends.
"Since 1991, mutual political trust has been completely enhanced; the all-dimensional, multi-tier, and wide-ranging cooperation between both sides has borne rich fruits," said Yang. "I believe that ASEAN-China relations have huge potential and will embrace a brighter future."
The two-day conference was co-organized by CIIS, a think tank of China's Foreign Ministry, and the ACC, an inter-governmental organization jointly founded by the governments of the 10 ASEAN member states and China. Participants from China, ASEAN countries, and international organizations attended the meeting and shared their opinions on China-ASEAN relations.