More Health Care, Less Rural Poverty
chinagate.cn by Liu Hui, April 7, 2016

Adjust font size: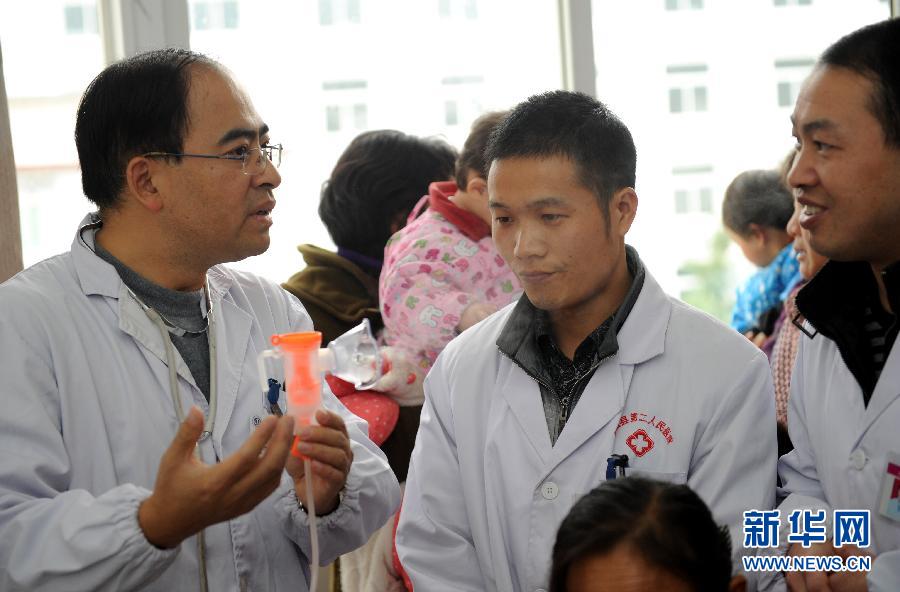 Rural poverty is a significant public health concern affecting approximate 10 percent of the Chinese population, according to a survey released by the State Council Leading Group Office of Poverty Alleviation and Development (LGOPAD) back in 2011.
Recommendations to end poverty have mainly focused on such areas as housing, income, widespread malnutrition and chronic hunger. However, health is often overlooked.
In recent years, calls for government actions on medical care have risen nationwide because medical treatment, for most poor people, is a major challenge. Nevertheless, poor people in central China's Hubei Province have been reaping the benefits of their government's foresight in promoting medical care and education, Hubei Today reported.
Cutting Health Care Costs
According to Ruan Lijian, Deputy Director of Hubei Provincial Health and Family Planning Commission, who is also in charge of the local poverty reduction program, "Not even the hardest-to-help patient is left behind as we conduct an annual census to create an overall whole picture of the needy. Those in a group of extra-needy can benefit from streamlined healthcare solutions ranging from initially seeking medical attention to curing illnesses."
Xiaojing, mother of a young baby from a shanty village in Hubei, had been suffered from symptoms of depression since 2012. Receiving treatment was difficult for her low-income family. The encounter with the poverty reduction program, particularly for medical aid, completely changed her life. With financial aid, she has systemic free treatment. Now, she is recovering and much more capable of looking after her baby.
This is also true of others across the province. Xiaojing's fellow villager Xiaotao long needed an operation for a painful inguinal hernia in the groin area. Yuanyuan, a toddler born with a severe heart defect, has begun to undergo a series of operations. To their delight, the costly surgery is partly free as medical aid helps cover the cost.
Doctors without County Boundaries
While understanding the links between poverty and medical health, the severity of this issue requires a collaborative effort from policymakers, fund providers and healthcare professionals to improve the lives of impoverished families. It's a demanding job for locals to train doctors due to resource limitations. Obviously, instead of educating medical trainees, transferring experienced physicians from cities into townships and villages might be a right choice to address the pressing issue.
Luo Shengying, a 55-year-old villager taken by ambulance to a county-level hospital in Hubei late last year, received life-saving surgery by specialist Zhao Shiyu who serves the Zhongnan Hospital of Wuhan University but volunteered to work at a much lower level. With Zhao's timely rescue and his partner Wang Xuan's nursing care, Luo was saved. In addition, Zhao also introduced a more scientific and human-centered flexible work arrangement to local clinics, aiming to improve medical care and control costs.
Back to 2005, the Myriad Doctors Supporting Rural Health Care Project was launched as batches of physicians from A-level hospitals went down to grass-root units in Hubei. Through the new "partner assistance model," regional medical gaps have been gradually narrowed as 29 county-level hospitals and 22 key hospitals were twinned. Furthermore, clinic visits and inpatients in local health care institutions have increased by 213.9 percent and 467.8 percent respectively as the model initiated in a poverty-stricken county in Hubei over the past decade.
In 2013, a new plan that fully implemented the serious illness medical insurance of urban and rural residents was put into practice covering millions of people in Hubei. Last year, the rate of healthcare insurance participation of urban and rural residents reached 96 percent while the new rural cooperative medical system played a leading role in alleviating catastrophic medical payments for serious disease in poor rural areas.
As the "13th Five-Year Program" has proposed, Hubei would deepen its medical reform and adopt targeted measures to reduce poverty.