Poverty and education connected
chinagate.cn by Zhang Ling, March 30, 2016

Adjust font size: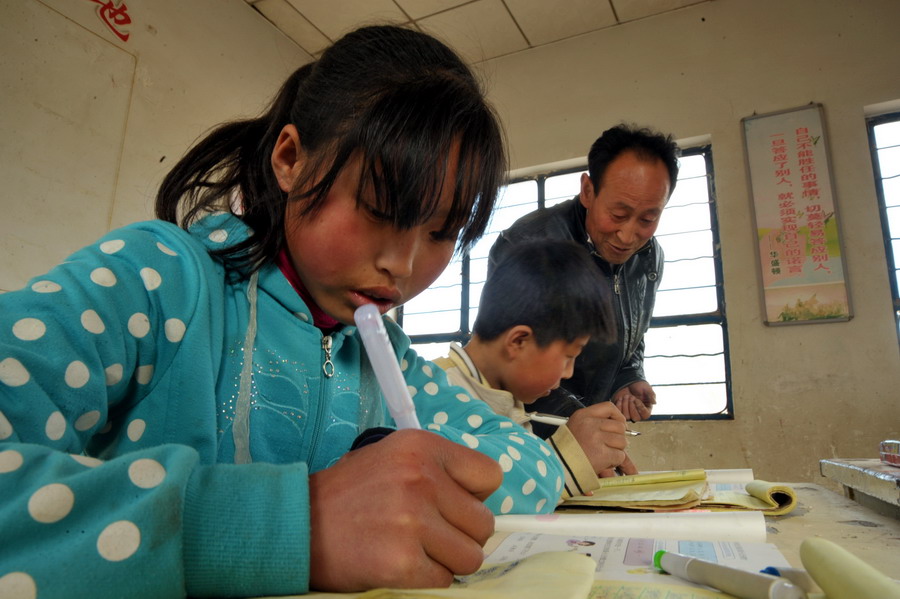 Poverty and education [Xinhua]
No one seriously disputes the fact that people from disadvantaged backgrounds perform less well in obtaining great wealth when considering the world's most influential people. If dire poverty in China were at a record low, education might be a great contributor to it.
The inter-linkage between poverty and education drew national attention during China's annual "Two Sessions" earlier in March, which was partly aimed at lifting China's remaining 55 million impoverished people out of poverty, China Education Daily reported.
Trapped into Poverty
As Chinese proverb goes, knowledge changes one's fate; education is on its way to allow knowledge to change the fate of poverty.
Liang Wentong, a deputy to the National People's Congress (NPC) from southwest China's Guizhou Province, knew how poor his hometown was. Before jumping into self-employment, the 41-year-old either subsisted on farming or migrant work like his neighbors.
Living in Datuan Village, a poor rural area of Guizhou, Liang had enough of its limited road connectivity and quality of education.
"There are roughly 1,500 villagers in Datuan, and almost 80 percent of them have poured into big cities," revealed Liang, adding that he prefers self-employment.
"Several years ago, I rented a fish pond to launch a home-based fish-raising business. The practice of raising fish was not as easy as it looked. At first, I only managed the pond for feeding fry and rearing them into fingerlings. However, many fish died in my farm's ponds during extreme summer heat," said Liang.
"Fish production at my farm was only around 2,000 kilogram per year, totaling a surplus of 10,000 yuan (U.S. $1,536). This was much lower with regard to my neighbor's farms. Many times, I planned to give up and work for others," recalled Liang.
Bridge out of Poverty
A large number of factors should be taken into consideration when fish farming such as the need for a constant water temperature, water from a reliable resource and aeration devices.
"I have bought lots of books regarding fish farming for survival. Naturally, my farming produced as much as 20,000 kilograms of fish after I made the necessary changes," said Liang.
"I was always dreaming of being taught professional fish farming," continued Liang, "In distant rural areas, not every one of us can have the chance to become self-taught, let alone receive high-tech instruction."
Liang claims that locals can't rise from poverty without acquiring the skills to make a living. Rural people in the village can have a better life as soon as they had practiced their craft and made a profit.
The top priority for reviving the rural economy is to cultivate traditional crafts people or skilled workers among the poor, as the 13th Five-year Plan has required.
"To help them survive from poverty is to achieve the goal of achieving prosperity for all citizens," said Liang.