CFPA launches COVID-19 International support program in Nepal
en.chinagate.cn by Liu Yizhou,April 03, 2020

Adjust font size: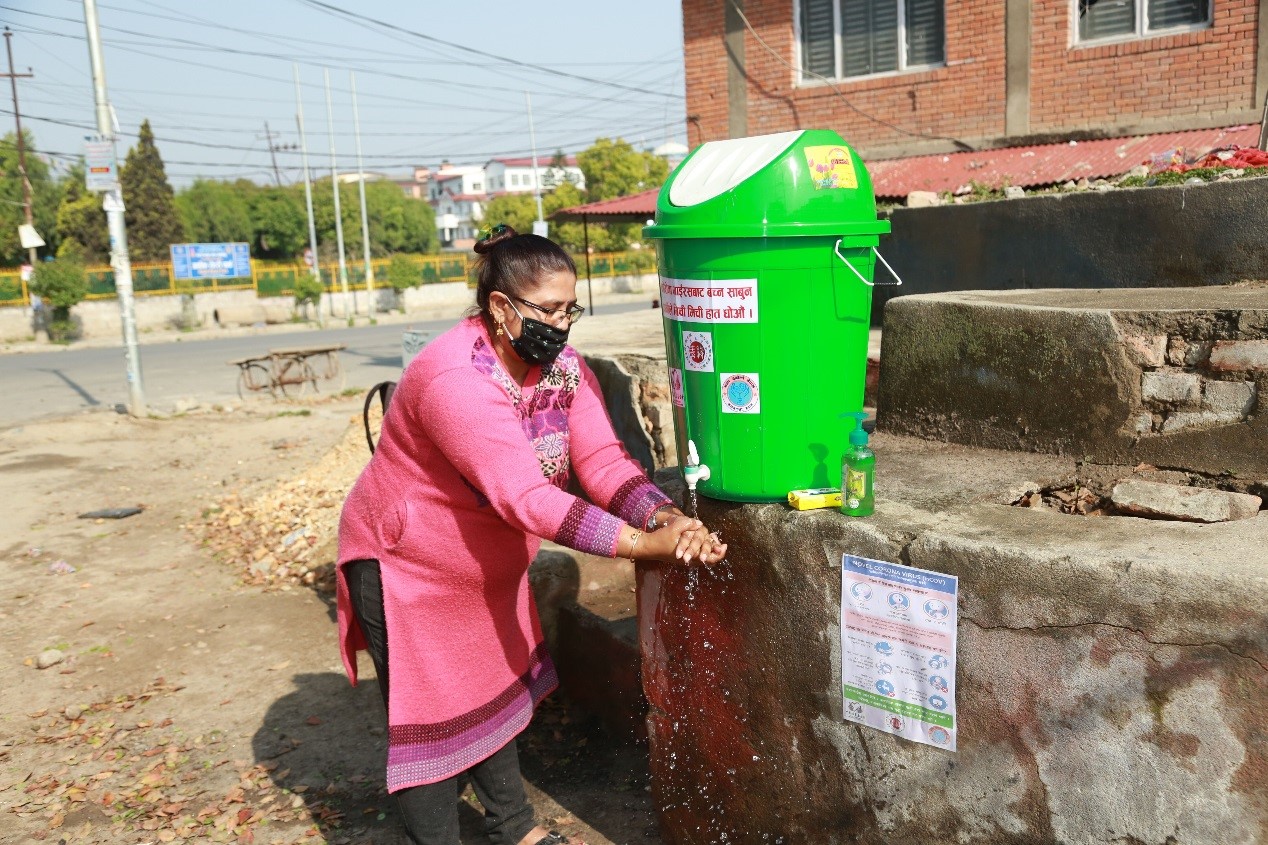 A woman washes her hands at one of the new stands. [Photo courtesy of CFPA]
The COVID-19 pandemic is spreading. On March 27 the China Foundation for Poverty Alleviation (CFPA) launched the "We are together" program, whose aim is to join with the international community and help developing countries fight against COVID-19, end the epidemic, and return to normal as soon as possible.
On March 28, with a donation from the Tibet Good Will Foundation, CFPA and Safa Sanaulo Nepal jointly launched the Nepal community COVID-19 project, the first initiative in the "We are together" program in Nepal's second largest province Janakpur. The deputy mayor of Mithila Bihari, Anita Kumari Sah, and representatives of local community attended the launch ceremony. They expressed their gratitude to China. The mayor said at the ceremony: "It is critical for Nepal to prevent COVID-19. Thank you to China for establishing such an important and urgent project here."
This project will donate sanitation buckets and disinfectants to poor and vulnerable communities, establish checkpoints and clinics in some districts in Janakpur province, Pharping province and Kathmandu, and set up 180 hand washing stands. The aims of the project are to raise people's awareness and correct misconceptions in the regions regarding transmission of COVID-19 and recovery from the virus. Timely and efficient communication, and identification of urgent requirements, play a crucial role in epidemic prevention at an early stage, and the project enables CFPA and corresponding partners to protect the health and wellbeing of people in need.
To date Nepal has 5 confirmed cases of COVID-19. Given that Nepal has relatively poor health-care services and lacks medical infrastructure, staff and equipment, coronavirus prevention will be a huge challenge. The government decided to lock down the country until April 8.
Nepal's Janakpur province shares one of the longest open borders with India, where the situation is more severe. It has a large population but poor sanitation facilities, which increases the risk during this worldwide pandemic.