Ex-military couple leads COVID-19 prevention and control efforts
en.chinagate.cn by Wang Jinli,March 12, 2020

Adjust font size: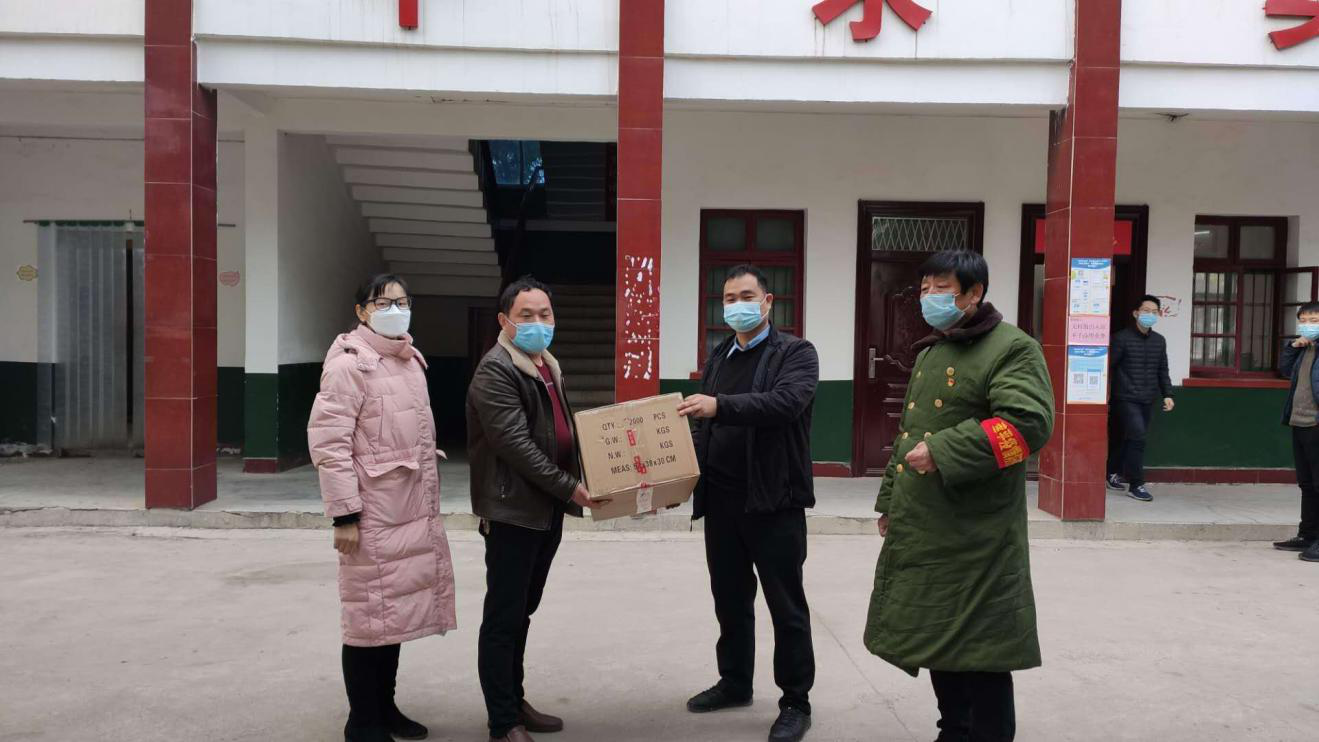 Cao Jianhong (second from the right) and Zhang Lili (left) donate surgical masks to the Hexing government. [Photo courtesy ofZhaozhuang village committee]
Cao Jianhong and Zhang Lili are a married couple who live in Zhaozhuang village, Hexing town, Zhumadian city, Henan province and used to serve in the military. They recently donated 2,000 surgical masks and 100 kg of disinfectant to the Hexing government and 300 yuan (US$43) to the Zhaozhuang village committee to help with COVID-19 prevention and control efforts. The couple also rented a disinfectant vehicle at their own expense and sterilized seven villages in Hexing.
Cao began volunteering at a checkpoint in Zhaozhuang village as well. His duties include providing information about epidemic prevention and control to local residents, inspecting migrant workers who have returned from Wuhan – the epicenter of the outbreak – and their close contacts, and logging personal information and body temperatures of anyone going in or out of the village. Cao was worried about the shortage of epidemic prevention supplies in Zhaozhuang and did his best to procure more.
Zhang joined the local Party volunteer group and has been helping officials hang up posters that feature self-protection information and has distributed more than 500 flyers that include more-detailed virus prevention and control content. A former head military nurse with a lot of experience, she has provided guidance in the village, led sterilization efforts, checked residents' temperatures, publicized and explained virus containment methods, and engaged in other duties.
Many of Zhang's neighbors have praised her. They have also told her that she should consider taking a break and checking on her parents and children. She tells them that fighting against the epidemic is her most important task right now and that her family is fine. Zhang has helped foster an orderly atmosphere in Zhaozhuang. Many of its residents are inspired by the couple and have been engaging in prevention and control work and donating money and supplies.
Cao and Zhang mentioned that they feel responsible for contributing to COVID-19 prevention and control efforts as Party members and veterans.