New high-speed rail lines operational in east China
Xinhua,December 17, 2019

Adjust font size: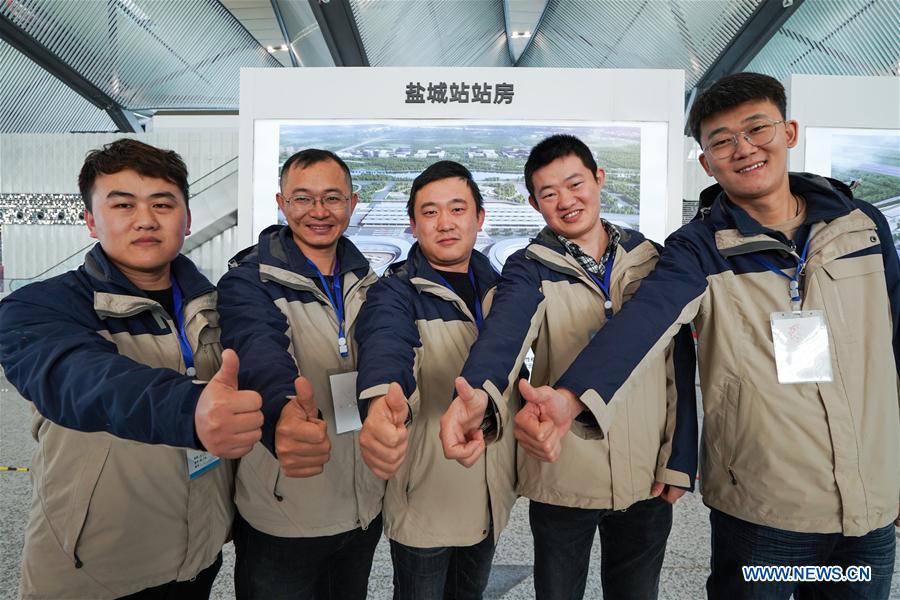 Staff members participating in the construction of the Yancheng Railway Station pose for photos at the station in the city of Yancheng, east China's Jiangsu Province, Dec. 16, 2019. The Xuzhou-Yancheng rail line and Lianyungang-Huai'an rail line were put into service on Monday, linking major cities in northern Jiangsu with high-speed railway network. (Xinhua/Li Bo)
Two rail lines entered operation in east China's Jiangsu Province Monday, bringing relatively underdeveloped northern Jiangsu into the country's fast-developing high-speed rail network for the first time.
The Xuzhou-Yancheng high-speed railway, with a length of 313 kilometers, has a designed speed of 250 kph.
A section of the 108-km Lianyungang-Zhenjiang high-speed railway, which connects Lianyungang with Huai'an, also went into operation Monday.
Huai'an is the intersection of the Xuzhou-Yancheng high-speed rail line and the Lianyungang-Zhenjiang high-speed railway.
The opening of the new railroads marks the interconnection of five prefecture-level cities in northern Jiangsu -- Xuzhou, Suqian, Huai'an, Yancheng and Lianyungang -- by high-speed railway.
With more sections to be launched next year, the new rail services will help ease the transportation pressure of the Beijing-Shanghai high-speed railway and aid people in relatively less developed northern Jiangsu in shaking off poverty.