Chinese Wisdom in Global Economic and Trade Rules
China Today,May 28, 2018

Adjust font size:

Features of the "Chinese Approach"

It's imperative to consistently reconstruct global trade rules. Based on the idea of mutual benefit and win-win results, China actively participates in global economic governance and offers a "Chinese approach." Zhuang Rui, deputy director of the Institute of International Economy, University of International Business and Economics, is an expert of macro-economic policies. He believes the "Chinese approach" features four aspects: advocacy of harmony and inclusiveness, emphasis on pluralism and balance, proposal of mutual benefits and win-win results, and the pursuit of practical cooperation.
China advocates harmony and inclusiveness. At present, the global governance system is complex, composing of multilateral trading systems, emerging bilateral and multilateral trade and investment agreements, and regional and sub-regional economic cooperation organizations. From China's perspective, all kinds of mechanisms and platforms should coexist and complement each other as long as they can promote trade and investment globally. To this end, China has held negotiations over free trade agreements (FTA) and bilateral investment treaties (BIT), supported the Regional Comprehensive Economic Partnership (RCEP) at the regional level, and promoted various cooperation platforms such as Free Trade Area of the Asia-Pacific (FTAAP), Asia-Pacific Economic Cooperation (APEC) and G20. It also supports multilateral trading systems such as the WTO.
China emphasizes pluralism and balance. In this diversified world, global economic and trade rules should comply with the interests of developed countries, and also embody the appeals of developing countries and underdeveloped countries. Developing countries make up over 30 percent of global trade and investment. The percentage is growing, so their appeals cannot be neglected.
At the G20 Trade Ministers Meeting held in Shanghai in July 2016, China proposed an initiative to promote a more inclusive and harmonious global value chain, so as to help developing countries and small and medium-sized enterprises (SMEs) share in the benefits of economic globalization and achieve a balanced and sustainable global economy. The initiative promoted the inclusiveness of the G20 mechanism, and also fulfilled the commitment, made in The Nairobi Ministerial Declaration at WTO's 10th Ministerial Conference in 2015, of helping the least developed countries (LDCs) integrate into the world economy. This was also a solid contribution to the UN 2030 Agenda for Sustainable Development.
China promotes mutual benefits and win-win results. As clearly stated in the Outline of the 13th Five-Year Plan, China vows to adhere to the principle of mutual benefits and win-win cooperation, facilitate free global trade and investment, and oppose trade protectionism in any form. The Belt and Road Initiative, put forward in 2013, is centered around mutual benefits and win-win results. During the Belt and Road Forum for International Cooperation held in Beijing in 2017, China signed trade and investment agreements with more than 30 countries, negotiated FTAs with relevant countries, and declared to hold the China International Import Expo in 2018.
China focuses on practical cooperation. Global economic governance is complex, demanding the maneuvering of different mechanisms and platforms. China has been making unremitting efforts to improve efficiency and reinforce disciplines of various mechanisms and platforms.
In terms of multilateral cooperation, ever since WTO members reached the Bali Package in December 2013, China has actively implemented the agreement and became the 16th member to accept the Trade Facilitation Agreement (TFA). In the 10th WTO Ministerial Conference held in Nairobi in December 2015, the Chinese delegation held a roundtable conference for LDCs to enter the WTO, together with the WTO Secretariat and the Kenyan government. Chinese delegates introduced China's experience in entry into the WTO and opening up to the world, which was acclaimed by representatives from 40 LDCs.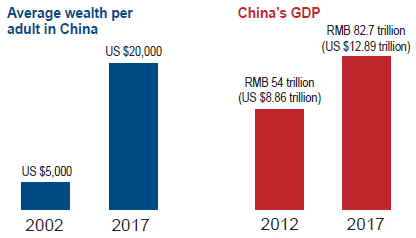 In terms of regional cooperation, China facilitated building various cooperation platforms. At the APEC Beijing Summit in 2014, for example, symbolic documents such as the FTAAP Beijing Roadmap and APEC Interconnectivity Blueprint were approved.