Roll out the Red Carpet for Foreign Imports
China Today,May 28, 2018

Adjust font size:

Equal Opportunities

Belt &Road partner countries with different industrial structures and complementary economies enjoy immense potential in trading. The Chinese government has been committed to removing trade barriers, building platforms, releasing pro-import policies, expanding imports from the Belt and Road partner countries, and optimizing trade structure. Statistics from the General Administration of Customs show that China's trade with Belt and Road partner countries in 2017 was a staggering RMB 7.37 trillion, RMB 4.3 trillion of which were exports and RMB 3.07 trillion imports. With a year-on-year increase of 17.8 percent, it accounts for 26.5 percent of China's total foreign trade.

Zhong Shan said that in the next five years China is expected to import US $2 trillion worth of goods from the Belt and Road countries. CIIE will not only help foreign products access the Chinese market, but also provide an international platform for the trading of commodities of different countries. In particular, it will serve as a new and broader platform for the B&R participating countries and their enterprises to cooperate on trade and investment, and integrate the goods and services trade resources.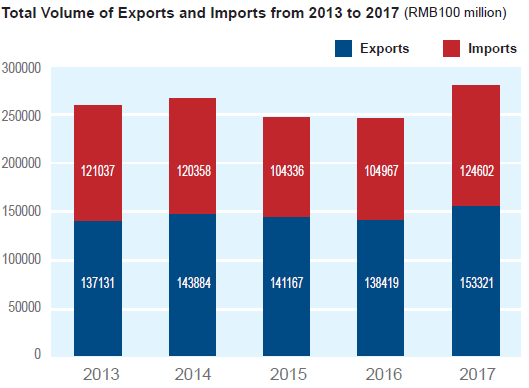 By the end of February 2018, 1,000-plus companies from more than 120 countries and regions had signed up for the expo. Among the would-be participating companies, 100 are either a Fortune 500 corporation or an industry leader, nearly 500 are from B&R countries, and more than 140 are from 22 LDCs. Exhibits include industrial robots, digital factories, unmanned vehicles, clothing & apparel, daily consumer goods, and food & produce. The expo will showcase both the traditionally competitive industries that are well established in their home countries and up-and-coming products and services that have just made some splashes in recent years. It is estimated that about 150,000 Chinese and international buyers will show up.
The expo will provide necessary assistance to participating LDCs. For example, they will be offered a discount in booth fees and two free standard booths.