Roll out the Red Carpet for Foreign Imports
China Today,May 28, 2018

Adjust font size:

After 40 years of reform and opening-up, China needs to further boost its foreign trade, especially its imports. The China International Import Expo (CIIE) will be a golden opportunity for would-be partners who want to expand trade and promote products and know-how in China," said Qu Xing, Chinese ambassador to Belgium and a member of the National Committee of the Chinese People's Political Consultative Conference (CPPCC).

CIIE, hailed as a golden opportunity by Qu, is an international expo initiated by China with participation by a number of international organizations and countries. The first CIIE will be held in Shanghai in November.

Why Host CIIE?

In May 2017, at the Belt and Road Forum for International Cooperation, President Xi Jinping announced China's plan to host CIIE in 2018, as a move towards higher-level opening-up. "Increasing imports and playing host to the first CIIE" has been included in the 2018 government work report.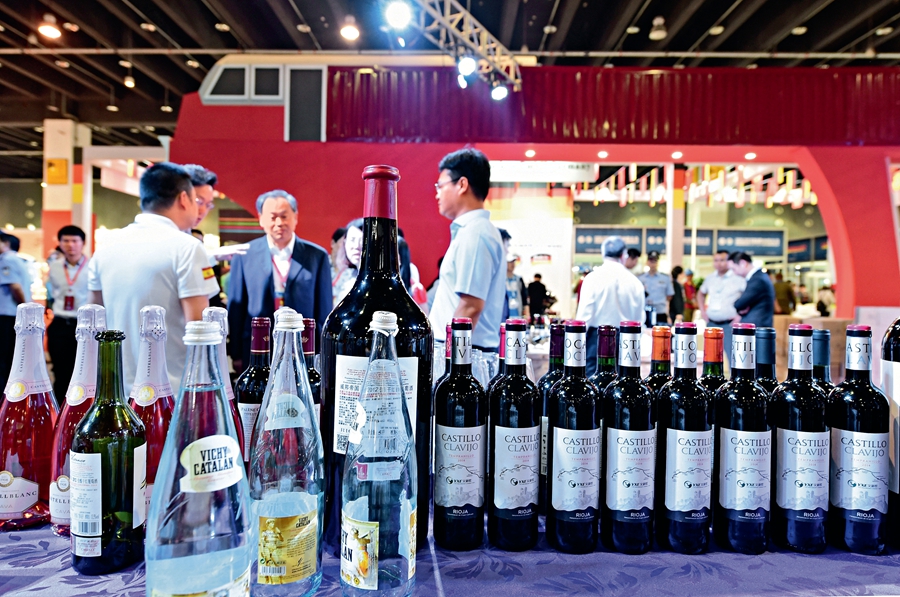 The 2017 China Yiwu Imported Commodities Fair attracts Spanish wine producers.
Why has China chosen to hold this expo amidst rising protectionism, the setbacks of globalization, and the retreats from multilateral trade systems? This question was answered by Minister of Commerce Zhong Shan at a press conference during this year's National People's Congress (NPC) and CPPCC sessions. "To hold CIIE is a major step for China to open wider to the global market and a concrete action to champion globalization and free trade; it shows the resolve, the responsibility, and the confidence of China to pursue opening-up in this new era."
Zhong, who believed the expo was a Chinese solution to build a community with a shared future for mankind, used a metaphor to describe the nature of the expo: "It is not a Chinese solo, but a chorus of all participating countries." The event serves China's development goals, and meanwhile builds a platform to promote global trade, open economy, and a community with a shared future.
On one hand, it encourages other countries to share the benefits of China's development. By expanding imports, China allows other nations to piggyback onto its fast development. It offers other developing nations a market for their exports and opportunities for growth and employment. On the other hand, it helps them participate in globalization. The expo will provide necessary support for LDCs (least development country), engaging them in the global value chain, so they can benefit from and contribute to the community of a shared future for mankind.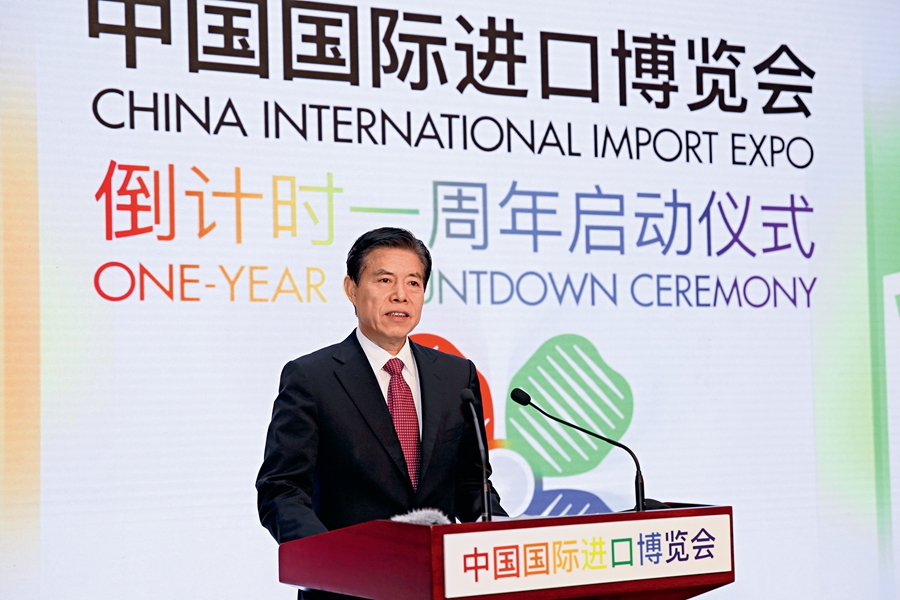 Chinese Minister of Commerce Zhong Shan addresses attendees at the One-Year Countdown Ceremony of the China International Import Expo on November 15, 2017.

According to Chinese Ambassador to Mexico Qiu Xiaoqi, who is a member of the National Committee of the CPPCC, "The expo is good news for the globe, because China has extended an invitation of collaboration to the rest of the world, an opportunity that other nations should not miss out on."
"China was initially pressured to open to the world, but now aspires to open, more proactively adjusting to international and domestic situations. On one hand, the domestic development and structural transformation require furthering opening-up. On the other hand, many countries hope to share the development dividends and abundant opportunities in China created by its rapid growth in recent decades," said Bai Ming, deputy director of International Marketing Office of Chinese Academy of International Trade and Economic Cooperation (CAITEC), Ministry of Commerce.
For Xu Hongcai, vice chief economist of the China Center for International Economic Exchanges, holding CIIE indicates that China, which has shifted from being export-focused to attaching equal importance to both export and import, will pay more attention to the balance of trade.