Report on the Work of the Government: A Window to China's Development Path
China Daily by Hu Angang,April 20, 2018

Adjust font size:

2018 Targets for Macro-regulation




The core task in 2018 of the Chinese government is to finish building a moderately prosperous society in all respects. To be specific, it refers to accomplishing goals and targets set in the 13th Five-Year Plan.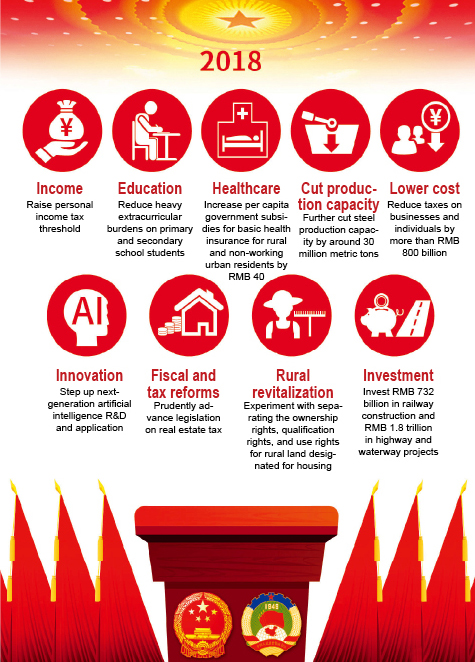 In this regard, Premier Li Keqiang mentioned that China's material and technological foundations are much stronger; its industrial system is complete, its market is vast, its human resources are abundant, and its entrepreneurs and innovators are dynamic. China enjoys composite advantages, and this means that the country has the ability and conditions to achieve higher quality, more efficient, fairer, and more sustainable development. It's fair to say that this report has fully demonstrated China's confidence in the path, theory, system, and culture of socialism with Chinese characteristics.
The report has set the following projected targets for development this year: GDP growth of around 6.5 percent; CPI (Consumer Price Index) increase of around three percent; over 11 million new urban jobs, the surveyed urban unemployment rate within 5.5 percent, and the registered urban jobless rate within 4.5 percent; basic parity in personal income growth and economic growth; a steady rise in import and export volumes, and a basic equilibrium in the balance of payments; a drop of at least three percent in energy consumption per unit of GDP, and continued reduction in the emission of major pollutants; substantive progress in supply-side structural reform, basically stable macro leverage, and systematic and effective prevention and control of risks.
Compared to the report of 2017, a new indicator of "the surveyed urban unemployment rate within 5.5 percent" is added. It covers all migrant workers living in urban areas, its inclusion in the report therefore reflects that one important aspect of high-quality development is to ensure and improve people's living standards, in particular to meet the employment demands of migrant population from rural areas.
The aforementioned targets are basically consistent with those of the 13th Five-Year Plan, and in line with the transition to a phase of high-quality development. In addition, judging from economic fundamentals and job creation capacity, a 6.5 percent GDP growth is achievable, since China has been pursuing stable, positive economic performance and seeking high-quality growth. This also reflects the achievements made in China's macro-economic regulation.
As for the issue of 6.5 percent GDP growth rate, I believe the past 40 years' journey of China's reform and opening-up could be divided into two phases: the high-speed growth phase with average annual rate at about 9.9 percent from 1978 to 2011; followed by the medium-high-growth phase from 2012, when the 18th CPC National Congress convened and China began to shift from high-speed growth to high-quality development.
There will not be a hard landing for China's economy. We can draw this conclusion from several statistics. In terms of projected targets, China's GDP growth changed from eight percent in 2011 to 7.5 percent during the 2012-2014 period, to around seven percent from 2015 to 2016, and to 6.5 percent from 2017 to 2018. We could clearly tell the trajectory of China's economy towards stable, positive, and high-quality growth. It not only follows the laws of economic development, but also is in line with the different stages of China's development.
China entered the 10th Five-Year Plan period in 2001, and started the transition from a low-income to a lower-middle-income country; when the 12th Five-Year Plan period began in 2011, China joined the upper-middle-income club. And China will enter the high-income stage in the future, which essentially means high-quality development, featuring relative slowdown in growth rate but larger economic scale. China's share in the global economy will continue to rise, and indicators of economic quality will improve notably. For example, the contribution of technological advances to economic growth will exceed 60 percent.
We can say that China has achieved a soft landing.
Looking back at the journey China has taken of reform and opening-up in the past 40 years, we can't help saying that one could never imagine the difficulty unless he has gone through it himself and that although success seems easily achieved, it is in fact anything but easy.