China Vows to Take Its Opening Up a Notch
China Today by Chen Wenling,April 20, 2018

Adjust font size:

The 2018 Government Work Report delivered by Premier Li Keqiang on March 5 to the first session of the 13th National People's Congress has many highlights. With a global vision and a mission to mobilize Chinese people for a better future, it sets the 2018 agenda for the Chinese government.




This year marks the 40th anniversary of China's reform and opening-up. Over the past decades China has become a major player in the world arena, and participated in, propelled, and spearheaded globalization. From the founding of the People's Republic of China in 1949 to the present, it has stood up, grown rich, and is becoming strong.




Based on 40 years' reform and opening-up experience, it is understood that China needs to go further along that path, making a new round of opening-up on all fronts, before it could become a great modern socialist country by 2035. As pointed out by President Xi Jinping, the spirit of reform and innovation needs to be carried forward, further emancipate minds, deepen reform across the board, make new breakthroughs, and conquer new heights.




To form a new pattern of all-round opening is a far cry from previous undertakings. It is starkly different from the stepwise opening, the pilot opening, the regional opening, the bringing-in opening or the opening with China's gradual integration into the international market.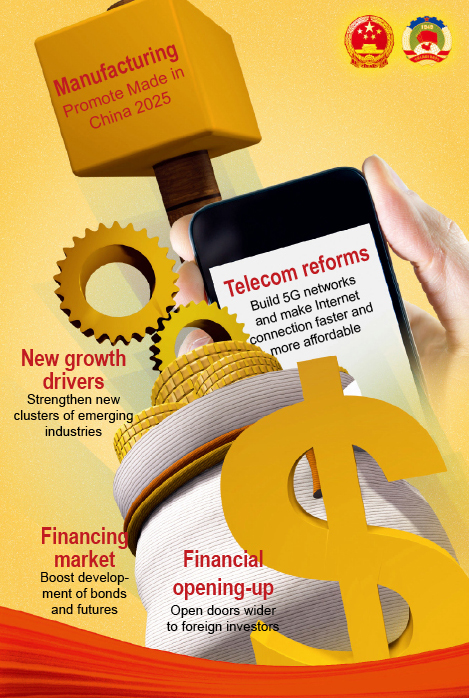 The first part of "creating a new landscape in an all-around opening-up" of the Government Work Report mentions "promoting international cooperation through the Belt and Road Initiative (B&R)". The Belt and Road Forum for International Cooperation, which was held in Beijing on May 14-15, 2017, drew 29 heads of state and government along with 1,500 representatives from more than 130 countries and 70 international organizations. The response to the B&R Initiative was positive and welcoming; B&R is proven to be a new platform of connectivity and international cooperation, which has exceeded the expectations of both China and the world.
The initiative, proposed and orchestrated by China, has become a global endeavor. That is why the Government Work Report declares that China is "committed to achieving shared growth through discussion and collaboration and acting on the outcomes of the Belt and Road Forum for International Cooperation." It is crucial for creating a new landscape in all-around opening-up, conducive to building major international corridors and deepening cooperation on streamlining customs clearance between B&R partner nations. It also helps with expanding industrial capacity cooperation, and enables access to the global chains of supply, industry, service and value; so made-in-China products and Chinese services can be available to more countries exploring the development path and seeking growth opportunities.
Meanwhile, the B&R Initiative links China with the rest of the world, and creates an all-front connectivity with maritime, land, air and Internet routes. Therefore, the opening of China will be all-front, high-level, and multi-dimensional. It is expected to achieve connectivity, collective action, and shared growth through extensive discussion and collaboration. It is much more than opening the single market of China to the outside.
The Government Work Report also elaborates the bullet points in the next stage of China's reform and opening-up: "The general manufacturing sector will be completely opened up, and access to sectors like telecommunications, medical services, education, elderly care, and new-energy vehicles will be expanded." China's general manufacturing sector, which has opened fairly wide, still needs more vigorous strategizing that keeps abreast with new changes in global manufacturing.
The openness of Chinese finance will be significantly improved, as China is going to "ease or lift restrictions on the share of foreign-owned equity in companies in sectors including banking, securities, fund management, futures, and financial asset management." When the domestic commodity market is connected to the international market, China's integration with the global capital market will be accelerated.
Countries and regions leading in international competitiveness happen to be those boasting the best business environment, a barometer of soft power. To ensure steady growth of foreign investment, China needs to foster a world-class business environment.
The Report also lays out specific targets for international trade. China has joined the global club of speedy customs clearance since it has realized 24-hour customs clearance. However, the Report raises the bar even higher, "China should shave another third off the total time taken for customs clearance." Speedy customs clearance and fast logistics will further enhance China's competitiveness in international trade.
Innovative forms of trade will take advantage of advanced technologies including the Internet, big data, cloud computing, cloud services and AI, and also of infrastructures, like networks of bullet trains, highways, airlines, harbors and pipes. International online-to-offline e-commerce will transform China from a big trading nation to a solution provider of trade.
The Report proposes "promoting trade and investment liberalization and facilitation," a signal that shows China is poised to be a supporter, pioneer, and trailblazer of free trade. Against the backdrop of rising protectionism and rampant anti-globalization sentiment, China is committed to promoting economic globalization and protecting free trade. It is ready to work with all relevant parties to advance multilateral trade negotiations, and work for the early conclusion of negotiations on the Regional Comprehensive Economic Partnership, and speed up efforts to build the Free Trade Area of the Asia-Pacific, and the East Asia Economic Community.
At the 40th anniversary of reform and opening-up, China has laid out a blueprint to create a new landscape in all-around opening-up. It summarizes the past development experience, and sets out on the path to meet future expectations. China is working towards greater development with firm resolve and full confidence.
Chen WenLing is the chief economist of the China Center for International Economic Exchanges.