China's State Council Announces Major Reform
en.chinagate.cn by Jamie Mulholland,March 17, 2018

Adjust font size: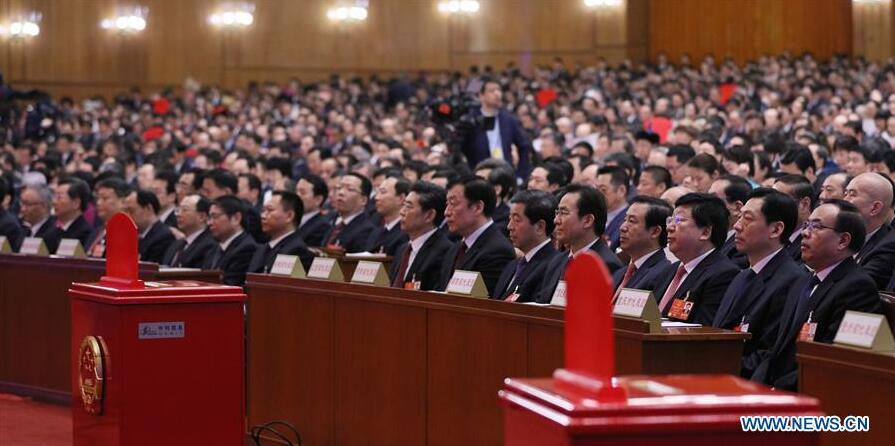 The fifth plenary meeting of the first session of the 13th National People's Congress (NPC) is held at the Great Hall of the People in Beijing, capital of China, March 17, 2018. [Photo/Xinhua]
China's national legislature on March 17 adopted a massive cabinet restructuring plan to make the government better-structured, more efficient, and service-oriented. The plan was passed at a plenary meeting of the ongoing First Session of the 13th National People's Congress.
After merging, restructuring, and dissolving, there are 26 ministries and commissions, including ministries for natural resources, veterans' affairs, and emergency management, according to the "State institutional reform plan".
The latest batch of reforms marks a continuation of President Xi Jinping's strategy to cut government waste and red tape. Following a major anti-corruption campaign, Xi Jinping has focused on a number of areas including poverty reduction, infrastructure, transportation renewal and rural revitalization.
Centralized Immigration body
The reform plan calls for the formation of eight agencies that would operate directly under the State Council, including a new immigration administration. It will combine the responsibilities of the Public Security Ministry's immigration and border inspection according to the plan. The new administration will enhance the coordination and administration of immigration affairs; helping to manage the growing number of visitors arriving for business and employment, in order to attract overseas talent, enhance services, help maintain public order and offer protection for legal immigrants. Its main duties will include managing immigration policies and procedures, border control, and services for expatriates and local nationals conducting personal business. It will also be responsible for international cooperation on immigration, refugee affairs and the repatriation of illegal immigrants.
The plan is seen as part of a strategy to attract highly skilled workers from overseas to help transform China's economy with science and innovation. A 10-year, multi-entry visa has been introduced to attract entrepreneurs, scientists, artists and their dependents.
In 2017, China's foreign migrant population reached 1 million; nearly double the figure in 2000, according to a report from the International Organization for Migration. Some Chinese researchers are promoting immigration as having contributed significantly to the socioeconomic and scientific development in the US, with migrants and children of migrants accounting for 46% of innovators and 55% having doctorates in STEM subjects.
Improving efficiency, services and legal protections for expats through centralizing immigration-related duties will help in "attracting the best and brightest minds around the world and allowing them to innovate and flourish have been the keys to US economic and technological dominance in the past decades," said He Weibao, a researcher at the Institute of American Studies at the Chinese Academy of Social Sciences. "China is hoping to emulate the success of the US."