The 2018 NPC session: China's political process in action
China.org.cn by Einar Tangen,March 15, 2018

Adjust font size: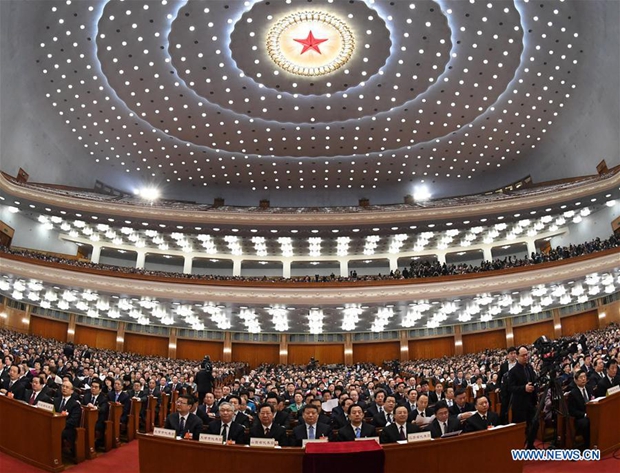 The fourth plenary meeting of the first session of the 13th National People's Congress (NPC) is held at the Great Hall of the People in Beijing, capital of China, March 13, 2018. (Xinhua/Rao Aimin)

The 2018 session of the National People's Congress (NPC), China's top legislative body, is especially important because of its place in the leadership and planning cycle, which runs in five-year periods. This session will see the election of the senior state leaders, appointment of senior government leaders, changes to the constitution, policy prioritizations and adoption of plans outlined in the Government Work Report.

China watchers seem to delight in the minutiae of what they see as leadership "musical chairs," which, while important, represents only the tip of China's government iceberg. The main event is the Government Work Report, which sets the economic and social goals for 2018. From this document, which represents tens of millions of hours of research, planning and discussion, an overview of China's goals, policies and timetables are described.
The process China uses to develop its laws, goals and plans is time consuming. Data from the city, provincial and state levels are conglomerated and studied; proposed solutions are then suggested and considered for their potential to solve the problems in question as well as for their compatibility with existing or other new policies.
Following this, extensive feasibility planning is initiated based on input collected from all relevant levels of the government. As almost every area is covered by two or more departments, any conflicts have to be resolved and mutually accepted before the suggested solution, together with its feasibility and implementation plans, can be sent through the stages of the approval process, finally arriving as a recommendation for action – as a new policy, rule or law.
By the time an item reaches the National People's Congress, it has been approved at a CPC Central Committee meeting to be brought to the NPC for action.
This process presents a major difference from many democratic systems, where policies, rules and laws may be passed with less study and planning. In most democracies, new ideas may be introduced by legislators or special interests; in China they arise from the planning and study levels of the civil service. Suggestions are then processed in different ways; in democracies they are studied at the legislative level by legislative staff, while in China they are studied, in essence, by the entire system. So by the time initiatives have reached legislative approval, they are more fully developed and actionable.
In the end, China has managed through proactive analysis and planning to stay remarkably current with its needs, as compared to most large democratic nations. This is evident in its ability to address issues such as pollution, poverty, population, corruption, fiscal risk, economic reforms and management issues.
Einar Tangen is a political and economic affairs commentator, author and columnist.