Fight against poverty a personal mission for Xi
China.org.cn,February 14, 2018

Adjust font size: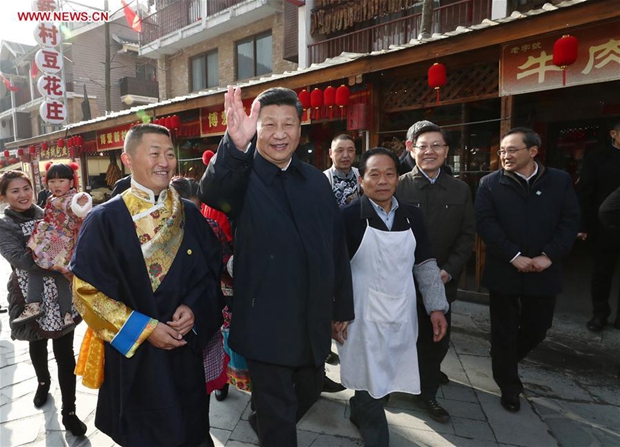 Chinese President Xi Jinping (2nd L, front), also general secretary of the Communist Party of China Central Committee and chairman of the Central Military Commission, visits Yingxiu town of Wenchuan county, southwest China's Sichuan province, Feb. 12, 2018. Xi made an inspection tour in Sichuan and extended greetings ahead of the Spring Festival, which falls on Feb. 16 this year. [Xinhua/Ju Peng]

Under the leadership of President Xi Jinping China is making progress on several policy sectors. Social policy is one of the most important which aims to improve the living conditions for Chinese citizens. The eradication of poverty is thus a top priority.
Xi is personally interested in monitoring progress. Every year he visits outlying regions in order to talk to local people. He went to northwestern Gansu province in 2013, to northern Inner Mongolia autonomous region in 2014, to northwestern Shaanxi province in 2015, to eastern Jiangxi province in 2016 and to Hebei province in 2017.
This year, days before the country celebrates Spring Festival, he visited the homes of impoverished villagers of the Yi ethnic group in the Daliang Mountains of southwest Sichuan province. Specifically, he asked the villagers about their lives and discussed poverty alleviation with local officials and villagers. His vision was straightforward, even on this symbolical occasion. Instead of ignorance, backwardness and poverty he is focusing on culture, knowledge and hygiene. Flaws of the past can be exorcized, according to Xi's words.
After talking to local officials and villagers there, the Chinese President visited the Yingxiu town of Wenchuan county. This was the epicenter of the magnitude 8 earthquake that hit Sichuan province 10 years ago. Obviously, poor people there need more support and Xi wanted to show that he practically stood by their side.
China's fight against poverty drives the attention of international observers to its domestic developments. There is no better approach to understand a foreign country than to look at it internally, if possible from a historical perspective. Poverty in China had been a serious problem for years, greatly influencing living conditions and depriving numerous citizens from basic goods.
But successive governments have shown a steady determination to eradicate the phenomenon and achieve high and sustainable growth patterns. More than 700 million Chinese people have been lifted out of poverty over the past three decades. The number of people living in poverty in rural areas was reduced by over 10 million only in 2017 according to governmental statistics.
The Chinese administration is addressing social imbalances, is creating new job positions and is increasing opportunities for equal rights to education. Applied measures include the protection of Chinese people living in rural areas and the providing of basic medical care and other health services. They also include the improvement of technologies, equipment and IT to increase agricultural productivity.
More importantly, relocation schemes are giving the chance for farmers to abandon their birth areas and move into city centers where public services are mature. But even the ones who do not want to leave but stay and work in their regions are possibly able to find some opportunities through the implementation of the Belt and Road initiative. This can offer decent salaries to poor people by working in infrastructure projects.
From an international perspective, China is acting in line with the 2030 Agenda for Sustainable Development proposed by the U.N. In April 2016 China released its position paper on the implementation of the 2030 Agenda. The National Plan consists of five parts: achievements and experience, opportunities and challenges, guiding thoughts and general principles, overall approaches as well as the implementation plan for the 17 sustainable development goals. On that basis, China is also strengthening its presence at the U.N. level.
Western media tend to acknowledge China's success in fighting poverty despite their traditional suspicion. This January, for instance, The Guardian, published an extensive story on Beijing's objective to help 50 million people rise above its official poverty line by 2020. On the same wavelength, reporting on Xi's visit in the Daliang Mountains, Reuters news agency illustrated poverty alleviation as "one of his signature policy issues."
There are other media such as The New York Times which are less optimistic though. In its view, it will be hard for Beijing to eliminate poverty in the next three years. No one disagrees that the task is herculean, especially when the remaining and last part of the population has to be lifted out of it. But China's systematic effort is the secret of success. Xi's passion only increases the chance of making poverty history. This is having impacts both domestically and internationally. The vision of the Chinese president transcends his country's boundaries and has a global dimension.
George N. Tzogopoulos is a columnist with China.org.cn. For more information please visit:
http://www.china.org.cn/opinion/GeorgeNTzogopoulos.htm