Longquan Swords
China Today,January 18, 2018

Adjust font size:

King of Swords

For aristocrats and officials, a sword was an important accessory that should match its master's status. This explained why Longquan Swords have been popular throughout history for their high quality, design, and fame. They were offered to emperors and high-ranking officials as tributes and given as gifts among friends. Longquan also appeared in poems, synonymous with the sword. Li Bai once wrote: commoner like me, carry Longquan at the waist. The verse expressed his resolution of serving the country and deterring enemies.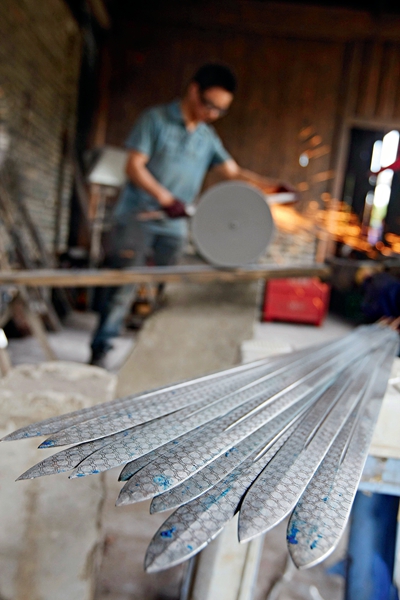 Dense texture and sharp blade are characteristics of Longquan Swords.
Longquan Swords are known for their hard texture and sharp blade, which are attributed to the forging technique. As early as the fifth century BC, Chinese were trying to make the iron harder by carburizing the heated iron and forging it repeatedly. As an old saying goes, a hundred times of forging turn iron to steel. Repeated heating, folding, and forging can remove impurities from the pig iron, and eventually turn it to steel with a firm and dense texture. The texture could be seen on the surface of the blade, which in face indicates the times of folding and forging. Normally, to make a one-kilogram blade for the Longquan Sword, it requires tens of thousands of times of hammering pig iron weighing three to five kilograms.
Restricted by the ancient technology, the carbon content of steel remained low back then, so quenching is imperative to improve the blade's rigidity, hardness, tenacity, and resistance to abrasion. The steel at 750-800 degrees centigrade should be put in water with an appropriate temperature to cool down. The temperature of the water is vital – as it determines whether all efforts come to a success or nothing. In other words, the moment when steel goes into the water is decisive – and discerns masters from ordinary smiths.
This explains why generations of ironsmiths were so eager to find "magic water," which, in modern scientific perspective, contains special microelements prone to causing chemical reaction. Water in Longquan County is rich in specific minerals, making it ideal for quenching. But folk tales attribute Longquan's success to a mysterious oracle – it is said that close to where Ou Yezi forged the first Longquan Sword, there were seven wells aligning like the Big Dipper stars, and then Ou carved the seven stars on his sword.
Traditionally it takes more than 20 processes to make a Longquan Sword, many of which hinge on the experience of sword smiths. Take hand grinding for example. A good grinding can make the blade sharper, texture look smoother, and the connection to the hilt sit firmly. A kind of stone in Longquan County, called "light stone," is found perfect for grinding. The whole process of hand grinding takes several days to months, as it is divided to coarse grinding, fine sharpening, and polishing.