An Expanding Circle of Friends
China Today by Lin Minwang,January 05, 2018

Adjust font size:

The international situation remained complex, and domestic policies of some major powers saw new changes in 2017. Sticking to the principle of being proactive and responsible, China has continued to enrich the system of its diplomatic theories, and achieved fruitful outcomes in terms of diplomatic ties with other major nations as well as its neighbors.

Major-Country Diplomacy

Creating favorable external conditions has always been a key task for China's foreign affairs. The country's diplomatic practices and principles that have been carried out since the 18th National Congress of the Communist Party of China (CPC) held in 2012 were reviewed and summed up in the past year, which has not only provided political and theoretical references for the 19th CPC National Congress held in October this year, but also set the course for future development of China's diplomacy.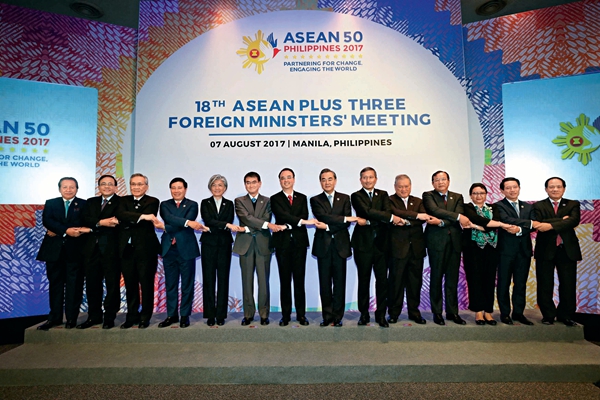 China's Foreign Minister Wang Yi (eighth left) attends the 18th ASEAN Plus Three Foreign Ministers' Meeting in Manila, the Philippines on August 7, 2017.
In the past five years, President Xi Jinping has put forward and constantly augmented the philosophy of major-country diplomacy with Chinese characteristics, underlining that foreign affairs should be carried out in a distinctive Chinese style. His in-depth elaborations on the goals, paths, principles, and methods of China's diplomacy under the new circumstances have established the basic theoretical framework for major-country diplomacy with Chinese characteristics, and show the direction for the nation's diplomacy.
According to President Xi, China is closer than in any other period in history to the center of the international arena and the goal of national rejuvenation. Strengthened capabilities provide richer resources and means to defend the national interests and contribute more to the world. On the other hand, it means China should take on greater responsibilities and play the role of a large responsible country to find solutions to burning issues and global challenges, making international governance more just and equitable, and promoting global peace and development.
In his 2016 New Year speech, Xi made the remarks: "The world is so big and the problems are so many. The international community expects to hear China's voice and see China's plans. China cannot be absent."
Based on the concept of major-country diplomacy, China defines the overarching mission of its foreign affairs in the new era as being committed to peaceful development and forging a community with a shared future for humankind. In the past five years, China has been promoting reform of global governance through cooperating over the Belt and Road Initiative, establishing the Asian Infrastructure Investment Bank, setting up the Silk Road Fund, organizing the Belt and Road Forum for International Cooperation, and hosting the Asia-Pacific Economic Cooperation Economic Leaders' Meeting, the G20 Hangzhou Summit, the BRICS Xiamen Summit, and the Conference on Interaction and Confidence-Building Measures in Asia Summit, among many others.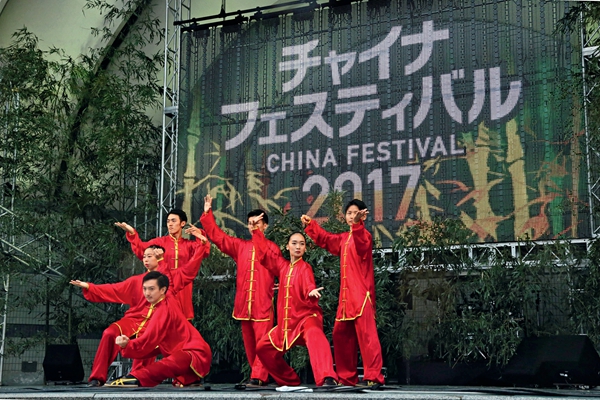 China Festival 2017 unveils in Tokyo, Japan on October 21. Performances with Chinese elements such as kungfu, lion dance, and traditional operas are shown.
A multi-dimensional and multi-layered diplomacy that China is working to build will provide a favorable external environment for China's development. To date, China has created partnerships of various forms with around 100 countries, regions, and regional organizations. Its circle of friends is expanding to cover different regions and different types of states.
In his report delivered at the 19th CPC National Congress, Xi highlighted that the nation has actively developed global partnerships and expanded the convergence of interests with other countries. "China will promote coordination and cooperation with other major countries and work to build a framework for major-country relations featuring overall stability and balanced development," he said.
Xi added that China will deepen relations with its neighbors in accordance with the principle of amity, sincerity, mutual benefit, and inclusiveness and the policy of forging friendship and partnership with its neighbors. Guided by the principle of upholding justice while pursuing shared interests and the principle of sincerity, real results, affinity, and good faith, China will work to strengthen solidarity and cooperation with other developing countries. It will also strengthen exchanges with the political parties and organizations of other countries, and encourage political organs, the military, local governments, and people's organizations to engage in exchanges with other countries.