Beijing Diabolo Museum
China Today by Brian Salter,November 28, 2017

Adjust font size:

Ancient Toy

The history of playing with diabolos dates back about 1,000 years, when it developed as a pastime for the Chinese nobility. During the Ming Dynasty (1368-1644), it gradually passed down to"ordinary" people; but it wasn't until the Qing Dynasty (1644-1911), that playing with, and selling, diabolos at temple fairs during the Spring Festival became a firm tradition. The diabolo also evolved into a popular juggling item on the streets and finally ended up in acrobatic performances as well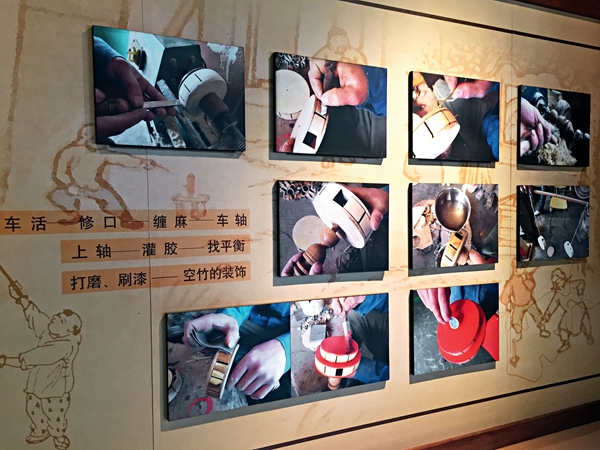 The techniques that go into the manufacture of a diabolo are painstakingly explained.
In fact, diabolo spinning has been listed as one of China's intangible heritages. It's a lot harder than it looks, though if one has the tenacity to keep on practicing, several diabolos can be spun on a single string at one time. Part of the beauty of diabolos – or devil's sticks, as they are also known – is the number of amazing things you can do with them.
The technical name for a diabolo is actually"kongzhu," although it also has many regional nicknames, such as"wind gourd" in Tianjin, or"che ling" meaning"pull the bell" in southern China.
They come in a variety of sizes – from the length of a finger nail to the width of a car tire, and in shapes such as dragons, balls, and flowers. Anyone who has ever gone to a modern Chinese acrobatic performance will definitely have seen displays of dexterity when the acrobats strut their stuff with these infernal devices. The diabolo was officially added to acrobatic performances in China as far back as 1950. As the diabolos are spun, they make a unique whistling or buzzing sound, which is said to symbolize the awakening of spring.