Zizhuyuan – Where Purple Is the New Black!
China Today,October 20, 2017

Adjust font size:

Magnet for Locals of All Abilities

After 1949, the people's government transformed the fields into a new park. Through several years of construction, the park was provided with lush bamboos and shady trees, small bridges, and open-air pavilions.

In 1981, a new 1,000-square-meter waterside complex was built and opened to the public on Beishan (North Mountain) Island. It consists of the Purple Bamboo Pavilion, the Gallery for Watching the Moon, a winding walkway that leads out over the water, and a square pavilion.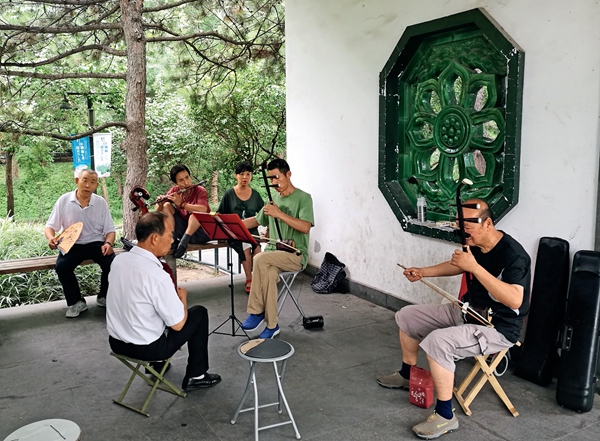 Nowadays, Zizhuyuan is known for its abundance of verdant bamboo groves, which have as many as 50 different species of bamboos on display, including mottled bamboos, purple bamboos, and fishpole bamboos. In addition, park furniture is made of bamboo and even the bridges and pavilions are decorated with bamboo motifs.
To the north of the park lies the enchanting serenity of Yunshi Garden, in which a hexagonal pavilion, an elaborate courtyard and bamboos blend in picturesque harmony. In the middle of the garden, you can see two small islets – Blue Lotus Islet and Moon Islet. An elegant double-story waterside pavilion stands beside Moon Islet, while the most beautiful of the scenic spots has to be Bayixuan Pavilion, on the south side of the Blue Lotus Islet. It has an area of approximately 2,500 square meters. With a lotus pond in front and 10,000 green bamboos behind, Bayixuan Pavilion shows ingenuity in both its conception and design. It is not surprising that the lotuses share the limelight with the bamboos as far as the park's embellishments are concerned. In summer, visitors can boat on the lake through the lotuses, making the most of this amazing sight.
Like many of Beijing's open spaces, Zizhuyuan is a magnet for the capital's residents to join in morning exercises, practice their ballroom dancing (or even a Chinese version of the Argentinean tango), fly kites, and try out their calligraphy on paving stones using water instead of ink. There's even an area devoted to Chinese chess, where what look like park benches are, on closer inspection, chess boards turned into sculptures.
And as the year passes by, thin bamboo buds and hundreds of flowers break out in blossom during the spring, and in April and May peonies bloom – there are over 1,000 peonies here of 40 different strains, including purple, red, pink, white and green. The summer brings out an armada of little boats on the lake, which is covered in blooming lotuses. In the autumn, the maple leaves turn flaming red, while in the winter visitors can best appreciate the lofty pines and bamboos, especially if set against a snowy backdrop.
Zizhuyuan really is a park you can visit again and again and never get bored. It should be on every Beijing visitor's (and resident's) itinerary!