Poverty relief effort called unprecedented
China Daily,October 12, 2017

Adjust font size:

China has made unprecedented achievements in its fight against poverty since the end of 2012, when poverty alleviation was made a priority task at the18th National Congress of the Communist Party of China, a top relief official said.

From 2012 to 2016, the number of Chinese living in poverty dropped from 99 million to 43.4 million.

Another group of over 10 million is to be lifted out of poverty this year, said Liu Yongfu, director of the State Council Leading Group Office of Poverty Alleviation and Development.

Liu spoke at a news conference organized by the State Council Information Office on Tuesday.

An average of 13 million people were lifted from poverty in each of the past five years, while the figures were about 6.4 million from 1986 to 2000 and 6.7 million from 2001 to 2010, he said.

"The country has attached unprecedented importance to fighting poverty. President Xi Jinping has visited all the 14 contiguous poverty-stricken areas and more than30 of his 50 or so investigation visits in the country were relevant to poverty relief," Liu said.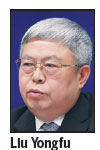 From 2013 to 2017, the central government's investment for poverty alleviation rose by an average of 22.7 percent a year, amounting to 278.7 billion yuan ($42.4 billion).
The total contributed by provincial-level governments hit 182.5 billion after rising by almost 27 percent a year on average, according to the poverty alleviation office.
Liu said the government has also used financial tools to help. A total of 380 billion yuan in interest-free small loans of up to 50,000 yuan has been offered to registered poverty-stricken families to help them start businesses.
He said some unavoidable obstacles still remain."While it's challenging to help people in those most poverty-stricken areas to get rid of poverty, it has been an outstanding problem that some people fall into poverty because of sickness. It's more costly and difficult to move forward."
Some 44 percent of the impoverished got there because of sickness, up 2 percent from two years ago, making it a key problem, said Su Guoxia, a spokeswoman of the poverty alleviation office.
She said the government will mobilize social powers, including NGOs, to help impoverished people affected by rare diseases not covered by government aid. Her department will cooperate with the National Health and Family Planning Commission and other government bodies to draft measures to help children with major diseases.
China has pledged to lift all people out of poverty and build a moderately prosperous society by 2020.