American 'Xicheng Dama' wants to retire in China
China.org.cn,September 06, 2017

Adjust font size:

Terry Crossman has been in Beijing for 22 years. Recently, the 62-year-old American has become an online celebrity overnight after creating a video applying to become a"Xicheng Dama."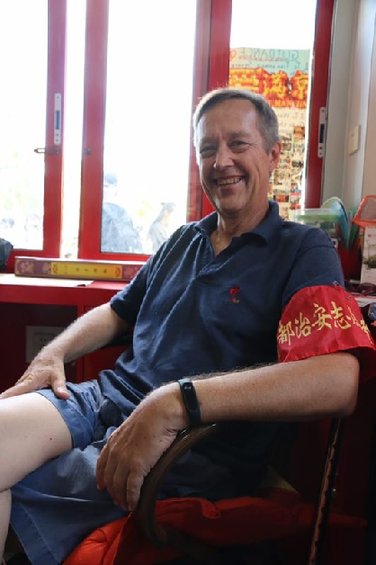 Crossman is a 62-year-old American man who describes himself as a"real Beijing gentleman." [Photo/People.cn]
"Xicheng Dama" refers to a group of volunteers who roam Xicheng District in central Beijing acting as public security volunteers. Some70 percent of them are females aged 58 to 65.
In the video, Crossman said that he initially saw the Xicheng Dama as busybodies, but his mind changed once he was on the inside. He is seen giving tourists directions, getting water for a baby and even helping a neighbor sell yogurt in the video.
After becoming an internet celebrity, the media were very keen to interview Crossman."I will go to Hangzhou to participate in a TV show. And there are many other media lined up – even the BBC," he said.
"I don't only help foreign tourists, but also Chinese tourists," said Crossman. He can speak fluent Mandarin and Cantonese, having worked in Hong Kong for 12 years before moving to Beijing.
"I like helping others, Beijing is being good to me and I want to give back to the society. I plan to do more volunteer work after I extend my visa," Crossman said.
The biggest difficulty for Crossman is extending his student visa, which will expire on Sept. 8.
Since his company no longer has an office in Beijing, he can no longer get a work visa. Therefore, Crossman applied for a student visa while enrolling himself in a Chinese language course.
"I want to stay and retire in China, this is my home," said Crossman."I always feel that I have a connection with China. I think in Chinese, I even dream in Chinese. My life is a mixture of western and Chinese influences."
Crossman has a Chinese name Gao Tianrui, which is based on the pronunciation of his English name. He became interested in Chinese traditional culture when he was only 13 and first came to Taiwan to learn Mandarin in 1973.
After he arrived on the Chinese mainland in 1981, he visited Shanghai, Hangzhou and Suzhou in East China.
"I don't want to go back to the United States. I have no hometown in the United States," he said."Your home is where your things are. In this sense, Beijing is my home."
Crossman said that the Xicheng government has talked with him and they will try to apply for a green card for him."I don't know whether I am qualified or not. I have heard only 1,700 foreigners manage to get a Chinese green card each year."