2017 Youth Leadership Summer Camp for Climate Action Launched in Beijing
chinagate.cn by Wu Yan,08/11, 2017

Adjust font size: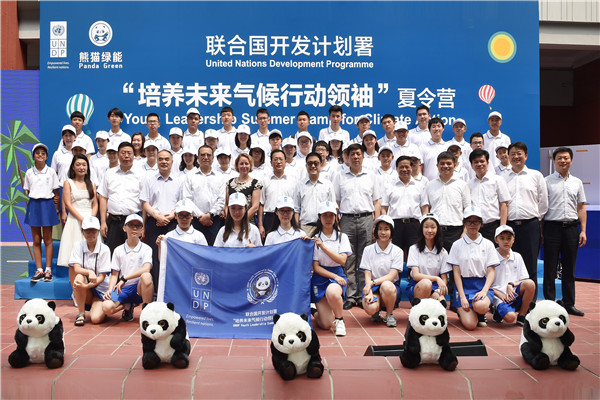 Chinese participants of the youth programme with leaders from UNDP and Panda Green Energy Group pose for a group photo.
The power of youth for taking action on climate change took a step forward today with the launch of the"Youth Leadership Summer Camp for Climate Action" at the United Nations Compound in Beijing, designed to promote youth engagement in tackling climate change and promoting the UN Sustainable Development Goals (SDGs).
This summer camp is hosted by the United Nations Development Programme (UNDP) in China, and will be held at the site of the recently launched Panda Solar Station, the world's first panda-shaped solar power plant based in Datong, Shanxi Province. Panda Green Energy Group, who built the solar farm, are co-hosting the nine-day summer camp that will take place from10 to19 August.
The opening ceremony in Beijing brought together50 young Chinese participants, selected through a competitive application process via social media. Over the nine day period, youth participants will engage in a variety of interactive camp activities covering several sustainable topics, key teamwork and cooperation skills through debates and practical workshops. Business leaders from the renewable energy and technology sectors will also share their insights with the participants.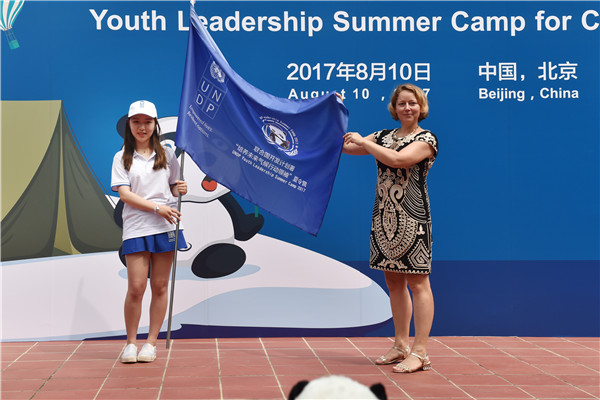 Agi Veres, UNDP China Country Director
"Climate change is a defining issue of our time," said Agi Veres, UNDP China Country Director."Through exciting initiatives such as this summer camp, UNDP can empower youth to take leadership on climate action today, so that by the time they become the leaders in the future they can be the first generation to tackle climate change."
She added that the significance of youth involvement for the achievement of the SDGs, and in the fight against climate change, is now well recognized by UNDP. UNDP believes that the younger generation in China should not only be pure beneficiaries of prosperity but also key collaborators for promoting sustainable development and driving towards achievement of these goals.
Last year, UNDP launched the partnership with Panda Green Energy Group to promote clean technology and enhance engagement with the next generation of young leaders to take action on climate change. During the summer camp launch event, Panda Green Energy Group announced the full integration of the new Panda Solar Station to the grid in Datong, in time for the start of the summer camp.
"The Panda Solar Station is not just a simple clean energy project, but will also act as a global platform for promoting youth leadership," said Alan Li, CEO of Panda Green Energy Group."Panda Green and UNDP will continue to work together to promote the awareness of young people on issues such as green energy and climate change, stimulating youth participation and supporting young pioneers to lead action against climate change through sustainable, green development."
During the launch, Zhu Ming, Director General of the New Energy Department of the National Energy Administration (NEA), also emphasized China's commitment to developing renewable energy, and its' importance for driving sustainability in China. Renewable energy has become a major component of China's total energy growth, and China to make great contributions to realization of the2030 Agenda for Sustainable Development.
Representing the depth of innovation involved in promoting green energy development and climate action in China, this summer camp is a unique opportunity for youth to engage in sustainability, ensuring that they have the opportunity to act as key collaborators for achieving future development goals.