Two giant pandas in Dutch zoo to meet public on May 30
Xinhua, May 18, 2017 Adjust font size: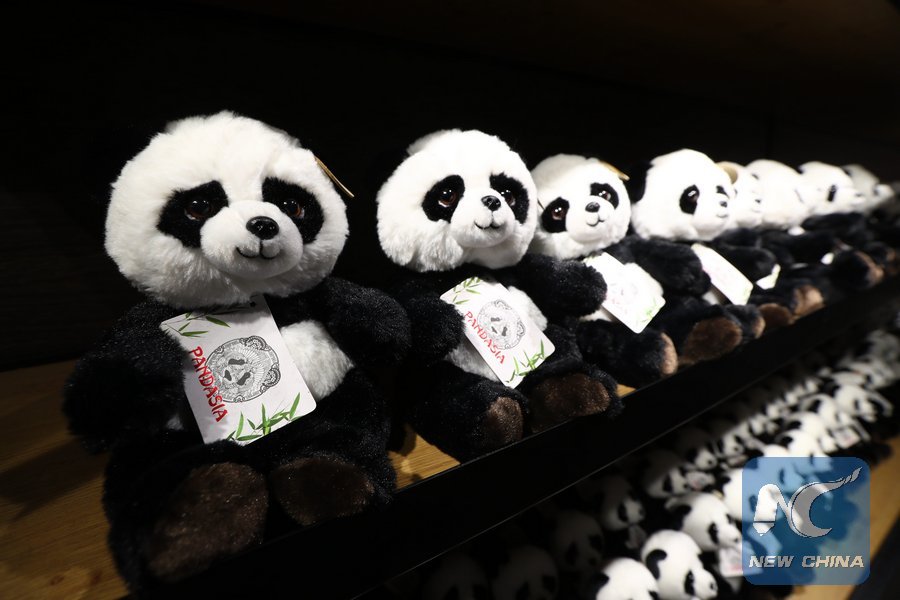 Photo taken on April 5, 2017 shows the panda toys sold at Ouwehands Zoo in Rhenen, a town in central Netherlands. (Xinhua/Gong Bing)
The two giant pandas living at Ouwehands Zoo in the Dutch city of Rhehen will be seen by public for the first time on May 30, the zoo announced on May 16.
This comes after they spent six weeks in quarantine since their arrival on April 12.
"Following a 16-year period of consultations and preparations, the two pandas Xing Ya and Wu Wen, who were symbolically gifted to the Netherlands by China during the state visit of our Dutch Royal Couple in October 2015, can finally be admired by visitors from the day following the opening," the zoo said.
Wu Wen, or "Beautiful Powerful Cloud" the female and Xing Ya "Elegant Star" the male, both three-and-a-half-year-old, will stay at Ouwenhands for 15 years. The Netherlands is the seventh European country that hosts this endangered animal.
The Dutch zoo has built a special enclosure called Pandasia for these two lovely mammals whose species symbolizes the efforts at protecting endangered animals. The whole area, built in traditional Chinese style, covers about 9,000 sqm, of which 3,400 sqm is designated for the giant panda enclosure.
The enclosure consists of two sections, a separate indoor and outdoor enclosure for the male and the female, several night accommodations, a nursery, a cold store for bamboo, a veterinary clinic and a keepers' area.