All in the Best Possible Taste?
China Today by BRIAN SALTER, April 26, 2017

Adjust font size:

They say that beauty lies in the eye of the beholder. What some people might consider as excessively ornate to the extent of kitsch can nevertheless often raise a smile or two. But surely no-one who passes the incomparable China House in the city of Tianjin, some 120 km southeast of Beijing, could fail to be intrigued, and wonder what its interior might be like.

China House (aka Porcelain House) is a "contemporary" museum of ceramics and antiques situated in a historical colonial building – No. 72, Chifeng Dao, in Heping District. The museum's richly wrought – some might say garish – exterior sets it apart from any other building you have ever seen.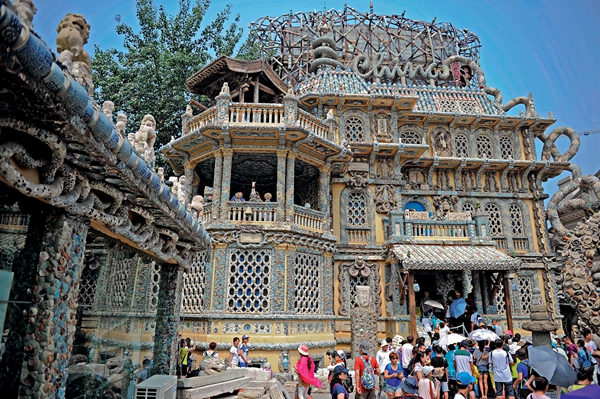 Hardly a centimeter of the house exterior has been left untouched.
I guess we are all curious at heart, and I succumbed to the urge to enter the extraordinary museum on my fourth visit to this lovely city.
The old five-story French-style house, which covers around 3,000 square meters, was originally the home of a late Qing Dynasty (1644-1911) central finance minister. After the founding of the People's Republic of China in 1949 it was converted into a bank. The building then remained unoccupied until September 2, 2002, when porcelain collector Zhang Lianzhi bought it for RMB 1 million (US $145,000). He spent the next four years converting the building – or work of art – into its present splendor.