Artist: Chinese classics tell consensus on aesthetics
china.org.cn / chinagate.cn by Shu Jun, March 14, 2017

Adjust font size:

"Really good art celebrates truth, kindness and beauty, reflects man's most prevalent emotions and seeks peace between mankind and the world. Enduring classics do not show their greatest value by being stored, but by being brought to the ordinary people." said Wu Weishan, a member of the National Committee of the Chinese People's Political Consultative Conference and the head of the National Art Museum of China, in his interview with a reporter from China.org.cn.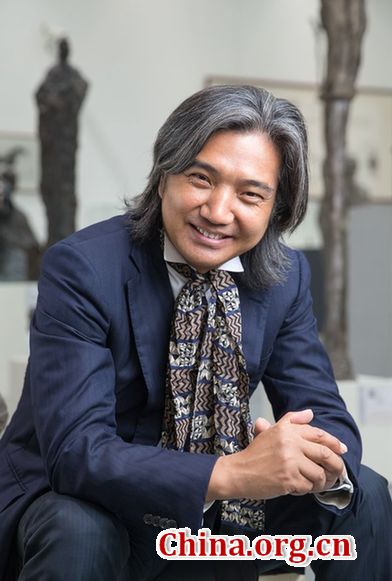 Wu Weishan, head of the National Art Museum of China. [Photo / China.org.cn]
In China, public art museums have a collection of nearly 500,000 works. Most of these masterpieces are kept in storage.
"Every dynasty and era leaves behind some classics that reflect the spirit of that time." Therefore, Wu proposed that "we should integrate the collection resources, enliven the classics and promote this spirit."
In this proposal there are two keywords; one is "integrate," while the other is "enliven."
"Take the National Art Museum of China as an example. We have nearly 110,000 works, but only 2,000 of them are displayed for the appreciation of the public each year," Wu said.
It is therefore an issue for Wu and the National Art Museum to examine, integrate, categorize and sort these un-displayed works into different themes for the appreciation of people both at home and abroad. This also corresponds to the notion "integrate" raised by Wu.
Last year, a large exhibition titled "Chinese Freehand-Art from National Art Museum of China" was held simultaneously in three exhibition halls in Harappa, Mexico. More than 300 collections from China's National Art Museum travelled to be exhibited in Mexico. 150 local volunteers in Mexico explained the five cardinal virtues of the Chinese people – benevolence, righteousness, courtesy, wisdom and trust – presenting to the audiences in Latin America the Chinese people's inclusive love and longing for peace.
Wu also brought his own works on tour exhibitions through France, Poland, Italy, South Korea, Singapore and other countries. "Despite differences in Chinese and Western aesthetics, there is one thing in common: the wonderful affection between human being," said Wu.
"Therefore, we are confident that as Chinese classics go global not only will they tell Chinese stories, but also reflect the consensus on aesthetics of the mankind," he added.