Wheel-bound girl's dream fulfilled via the internet
china.org.cn / chinagate.cn by Zhang Lulu, March 14, 2017

Adjust font size: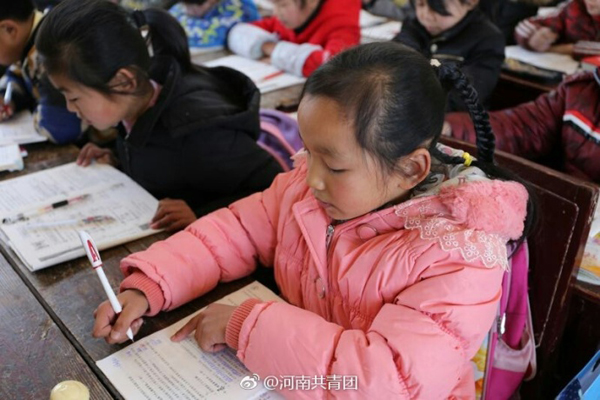 Wang Yi in class. [Photo/Weibo account of the Henan Communist Youth League] 
An 11 -year-old girl who has been paraplegic for eight years has had one of her dreams fulfilled with the help of China's internet community.
Wang Yi is a fifth-grade student in a village in central China's Henan Province. She recently wrote a letter to the provincial Communist Youth League asking for help. In the letter, the girl said she had an accident when she was 3 years old, which made her paraplegic and incontinent and forced her to wear diapers all day long. Wang said it was becoming difficult for her to get proper-sized diapers, as children's diapers are too small and those for adults are too large.
She said this has brought a lot of inconvenience to her life. "My mum is worried about it every day. Dad needs to work away from home. I get extremely upset when thinking about this."
Wang's mother told local media that they had to change her diapers several times each night, in case she feels uncomfortable wearing unsuitable diapers.
"My biggest wish is to find proper-sized diapers … so dad's burden would be eased and mum can have a good rest at night," Wang said in her letter.
The letter was posted on the official Weibo account of the Henan Communist Youth League on March 3. Many online users were touched and offered to help.
A Hangzhou-based diaper producer Miffy announced later that day it had sent samples to the girl. Xiong Mumu, a spokesperson from the company, told China.org.cn that several online users brought the post to the company's attention, and the company afterwards learned from the Communist League the girl's waist and weight.
Xiong said the company happened to have large-size diapers made for plus-sized children and decided to send a box of XXL-sized diapers to the girl. After learning the diapers worked for the girl, the company decided to provide diapers for free "as long as it works for her."
The company has now sent diapers that Wang can use for two months, Xiong said.
"The diaper is expected to work for the girl till she is 17 or 18, after which she can use adult diapers. Should she outgrow the diapers, we can ask other diaper makers for help," he said.
The local Communist Youth League has already offered help to Wang in the past, including charity money from volunteers, according to local media.